Treadmill Walking For Seniors 2021
As older adults may seek a healthy lifestyle with adding 30-minute walks to their routine as their favored exercise choice, home treadmills may be the ideal walking machine as they provide a safer and more convenient way to get activity each day. As a matter of fact, Harvard Medical School states that a treadmill is one of the most effective types of exercise equipment.  
As per their recommendation of engaging in 150 minutes of moderate-intensity exercise per week, having an accessible treadmill is an essential tool for helping seniors with their all-around health. As one can respond with the fact that walking can be done just about anywhere, it's not always conducive for seniors. Not all seniors are capable of jumping through the obstacles that come with joining a local gym. Adding in driving (if they're able to) and the time it takes to get to and from, expensive gym fees, and competing with other gym bystanders for using gym equipment; it may seem like all of those hassles aren't worth the effort of even going to the gym. 
Considering the factors above, walking outside may sound like the next best option. But the problems that arise with that are the risks of oncoming traffic, other walkers, uneven walking surface, and time-of-day limitations.
With a home treadmill, a senior can avoid those with a controlled and safe workout environment and enjoy a soft walking surface without having to travel outside of their home. And in turn, providing some comfort for their loved ones as they don't have to worry about their loved one being faced with difficulties when they're not there to help.
Best Treadmill For Walking For Seniors 2021
Before you invest in exercise equipment for seniors in your life, there are some things that you should consider as they may require treadmill features that some people may not normally think about. Look for a treadmill with good cushioning, safety features (handrails, side foot rails, emergency stop cord, etc.), incline features, accessible features, and workout programs specifically designed for seniors. Additionally, finding a home treadmill that folds up for easy storage is beneficial for those living in smaller spaces, such as a condominium.
With all those in mind, we've narrowed down our top treadmill for walking for seniors. It's called the NordicTrack EXP 10i Treadmill. Based on our research, this treadmill has all the features needed to get a safe and effective walking workout at home.
EXP 10i Treadmill Features Suitable For Seniors
Here are the outstanding features that led us to this being our top treadmill recommendation:
FlexSelect™ Cushioning – A good cushioned treadmill belt can reduce the impact on knee, ankle, and hip joints, so NordicTrack's FlexSelect™ engages dampeners while also creating a real road-walking experience.
OneTouch® Controls – This feature allows a senior to make quick speed and incline adjustments to their treadmill without breaking their form and stride.
Handrails – Sturdy side and front handrails to provide support before, during, and after a walking workout.
Quick-Stop Pull Cord – Emergency stop cord placed on the front of the treadmill dashboard for an easy and smooth stop. 
Adjustable Incline Range – Make workouts as easy or difficult with an incredible incline range from a -3% decline up to a 12% incline. Adding even a slight incline can further reduce joint impact. 
Two 2" Digitally Amplified Speakers – For clear, amplified sound without interference. For even more clear amplification and sound, the treadmill has Bluetooth® headphone connectivity, so a senior can use headphones during their walk to hear precise instruction from their iFIT® trainer or listen to their favorite music uninterrupted.  
AutoBreeze™ Workout Fan – Allows a senior to walk comfortably––additionally the fan can help prevent exercise-related heat exhaustion.
10" HD Smart Touchscreen – The large touchscreen provides a clear display of a senior's walking stats, as well as providing a great, visually-appealing entertaining feature that nicely complements the interactive training program, iFIT. 
Smart-Response Drive System – An impressive motor built to move any user through the toughest interactive training sessions.
SpaceSaver® Design with EasyLift™ Assist – Folding feature that allows a senior to maximize their home space and store the treadmill up and out of the way.
Integrated Tray – To hold additional items needed, such as a water bottle, keys, and smartphone.
1-Year iFIT Membership – A virtual training program that comes with your NordicTrack EXP 10i Treadmill purchase and includes pre-programmed senior exercise programs, including walking workouts filmed in various locations, like studio settings and global destinations.   
Benefits Of Walking For Seniors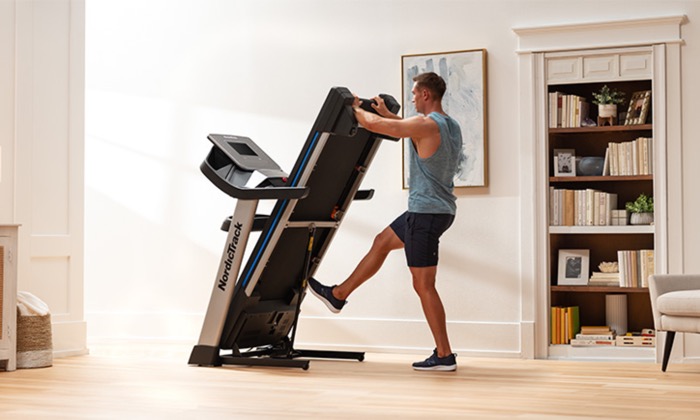 As being physically active can be beneficial for anyone, there are other important factors that seniors can benefit from treadmill walking that some may not be aware of. 
Memory Improvement
It's been discovered that doing high-intensity interval workouts can improve a senior's memory. In fact, Canadian Science Publishing conducted a study on 64 sedentary older adults found that, "HIIT led to the greatest memory performance compared with MCT (moderate continuous training) and CON (stretching control) and greater improvements in memory correlated with greater increases in fitness." 
They concluded, "Overall, these results suggest that aerobic exercise may enhance memory in older adults, with the potential for higher intensity exercise to yield the greatest benefit."
Combat Depression
Depression in the elderly can be common and has an impact on a person's physical and mental health. In a survey sponsored by the Australian government, it was suggested that 30% of Australians living in residential aged care facilities suffer from depression. So, physical exercise––along with other lifestyle changes––can help combat depression. 
More Benefits Of Walking For Seniors
Additionally, there are other important walking benefits for seniors that should be acknowledged: 
Weight management
Strengthens muscles and bones
Lowers the risk of certain diseases and cancers
Decreases the likelihood of falling and improving balance
Increases stamina and energy levels
Reduces anxiety
Decreases blood pressure for some of those who suffer from hypertension
Conclusion
Getting older is inevitable, so it's best to do our part in making sure we stay active and healthy––not just for us but for our families as well. So, investing in a valuable life tool, such as a quality home treadmill, is an important decision to make, so we can actively combat those negative effects of growing older now rather than later.
If you're not quite considered a senior but want to start reaping all the walking benefits we had mentioned above, see our treadmill buyer's guide. Start out by asking yourself the questions we've listed, test run your options, then narrow down the best treadmill that fits you and your lifestyle.
DISCLAIMER: This article is not intended to replace the advice of a medical professional. The above information should not be used to diagnose, treat, or prevent any disease or medical condition. Please consult your doctor before making any changes to your diet, sleep methods, daily activity, or fitness routine. Treadmill.com assumes no responsibility for any personal injury or damage sustained by any recommendations, opinions, or advice given in this article. Always follow the safety precautions included in the owner's manual of your fitness equipment, especially to include wearing the safety key when using the treadmill.
IFIT DISCLAIMER: iFIT requires an internet connection and Wi-Fi to function. You will be required to provide your credit card information upon sign-up for iFIT. Your Commitment Period may be month-to-month or twelve (12), eighteen (18), or thirty-six (36) months, depending on your agreement. Terms of Service shall apply to your iFIT use and subscription during your Commitment Period and any subsequent Renewal Term. Unless you cancel your account or notify us at least twenty four (24) hours prior to the expiration of your commitment period that you do not wish to renew your subscription, your iFIT subscription will automatically renew for an additional month, one (1) year, or two (2) year period, as applicable, for the same duration as your initial commitment period ("The Renewal Term"), and you authorize us to bill the then-applicable membership fee and any taxes to the payment method we have on record for you.
Sources:
https://www.nordictrack.com/learn/what-it-takes-to-make-10000-steps-really-count/
https://www.health.harvard.edu/staying-healthy/get-smart-about-treadmills
https://www.nordictrack.com/treadmills/exp-10i
https://www.arthritis.org/health-wellness/healthy-living/physical-activity/walking/how-to-choose-and-use-a-treadmill
https://treadmill.com/ifit-support-how-to-get-started-with-ifit/
https://www.hopkinsmedicine.org/health/conditions-and-diseases/exerciserelated-heat-exhaustion
https://medlineplus.gov/benefitsofexercise.html
https://cdnsciencepub.com/doi/10.1139/apnm-2019-0495#.XcB6H5JKjVp
https://www.betterhealth.vic.gov.au/health/conditionsandtreatments/depression-and-ageing
https://treadmill.com/treadmill-buying-guide/
https://treadmill.com/best-treadmill-for-running-at-home/