Your Treadmill Buying Guide For 2021
UPDATED, February 1, 2022
Getting a treadmill for your home is a great way to ensure that you have an opportunity to try and get the exercise you need and to try and stay fit. However, once you start looking for the right one for you, the choices can be extremely overwhelming. There are so many different models at many different price points.
Ask Yourself The Right Questions
Treadmill.com can help you narrow down the field to focus on the best treadmill for you. Start by asking yourself a few of these questions:
Question #1: What is your fitness goal?
Try asking yourself any of the following: Are you by any chance training for a race? Are you rehabbing from an accident or illness and need regular activity? Do you want to try and lose weight? Improve your heart health? Do you plan to walk or run? By laying out what you want to accomplish, you can improve your chances of getting the right tool that will help you get there.
For instance, if you plan to improve your running skills, you will want a treadmill with a longer deck to accommodate your stride. If you just want to walk a bit in the evenings, you do not need all of the features and qualities of a more expensive treadmill model.
Achieving exercise benefits, such as potential weight loss and improvement of your heart health, does however, depend on a number of factors other than having a gameplan and choosing the right equipment, such as using proper exercise form, eating healthily, exercising on a regular basis, your exercise intensity, staying hydrated, basal metabolism, ambient temperature, your sex, weight and height, etc.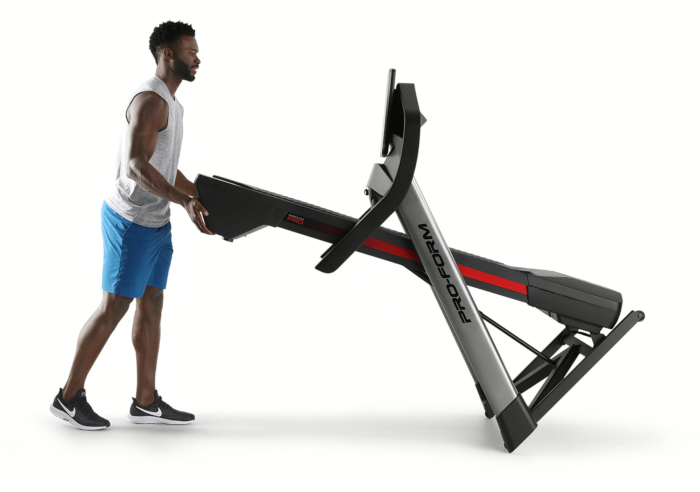 Question #2: How much room do you have for a treadmill at home?
Most treadmills are measured by length, depth, and width. However, it's a good idea to find a space in your home where you prefer to place the treadmill prior to your treadmill purchase.
For instance, the NordicTrack Commercial X22i incline Treadmill is an incline treadmill that has a footprint of 70" Length x 39" Width x 72.5" Height. Due to its incredible features and impressive incline range from -6% up to 40%, this treadmill requires more room, and particularly more headroom. 
Whereas, the ProForm Pro 2000 Treadmill has a footprint of 77.3" Length x 35.3" Width x 59.6" Height.  
Folding treadmills, in particular, are about half the normal length when stored, allowing you to find room for a treadmill even in a tight space.
Question #3: Which ones fit your budget?
Treadmills are available at prices that range from a couple of hundred to $4,000 or more. At each price point, you will see variations in performance and features.
As with any investment, cheaper is not always better. Sure, you can pick up a manual folding treadmill for around $150, but will you use it? A low end treadmill model is likely to be finicky to adjust and to offer unsatisfying levels of performance. It's not a bargain if it never comes out from under your bed.
Before settling on an exact dollar amount, study what is available. This can keep you from spending too much on a treadmill that offers features that you'll never need or use and lead to you suffering from sticker shock once you see what it will cost to get you the performance that you want.
Question #4: What features do you want in a treadmill?
When you are selecting a treadmill, you have a wide array of features you can choose from. Stat displays and workout selections can help you get an accurate idea of the effectiveness of your workout. Variable inclines allow you to change which muscles you are working and increase your metabolic rate which, in turn, may help you burn more calories (3, 4). Also, variable speeds mean you can do more intense cardio intervals and automatic features that make for a smooth transition from walking to running.
More budget-friendly treadmills more often require adjustments to be made manually particularly with the incline feature. Other treadmill models, however, will have a built-in set of routines and controls, so that you can get a more thorough and challenging treadmill workout with more automatic beneficial features.
Other treadmills come with advanced high-tech features like Bluetooth® capability, USB ports, docks for your phone, and wireless internet connections. While none of these are essential to a workout, they can make working out something you can look forward to and even make it easier to keep you working out longer.
Test Run Your Treadmill Options
It's a good idea to try a couple of treadmills before making your final decision. That way, you can assure that the treadmill works for you ergonomically before you commit.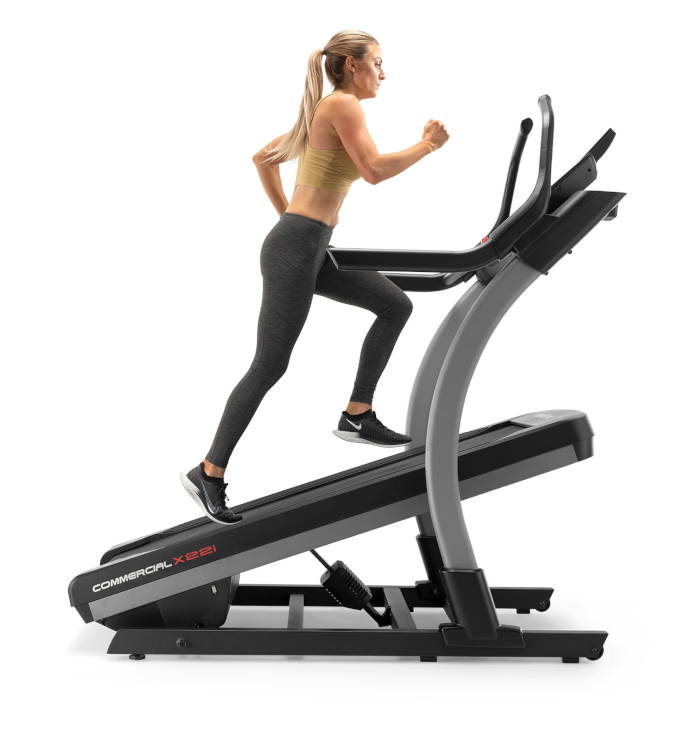 Compare Your Favorites
When you are listing treadmill features, try to prioritize the ones that are most important down to the ones that you like, but can live without. Pull up a comparison of all the features that meet your minimum requirements and compare them by price, reviews, company reputation, and other factors.
By choosing the one that gives you the features you want and will use for the price that you like, you can feel better about your investment and can look forward to using this important, health-enhancing machine.
Buy The One That Fits You And Your Wallet
The most important part of your research is the actual purchase. Do not let yourself get bogged down with too many choices. This can get overwhelming and lead to an easy out and an excuse not to make a decision.
It's a good idea to look for companies that have different payment options, including a financing program that will soften the load of having to pay the entire amount of the treadmill up front.
Conclusion
In order to take full advantage of the benefits, you need the right equipment to enable you to do the necessary work. Choose a treadmill that best fits your needs so you can begin a regular workout routine that will help you improve your health.  
And remember that achieving workout benefits depends on more factors than establishing your workout goals and selecting the right piece of equipment;  again, those factors include using proper exercise form, eating healthily, exercising on regularly, your exercise intensity, staying hydrated, basal metabolism, ambient temperature and your sex, weight and height. 
DISCLAIMER: This article is not intended to replace the advice of a medical professional. The above information should not be used to diagnose, treat, or prevent any disease or medical condition. Please consult your doctor before making any changes to your diet, sleep methods, daily activity, or fitness routine. Treadmill.com assumes no responsibility for any personal injury or damage sustained by any recommendations, opinions, or advice given in this article. Always follow the safety precautions included in the owner's manual of your fitness equipment.
IFIT DISCLAIMER: iFIT requires an internet connection and Wi-Fi to function. You will be required to provide your credit card information upon sign-up for iFIT. Your Commitment Period may be month-to-month or twelve (12), eighteen (18), or thirty-six (36) months, depending on your agreement. Terms of Service shall apply to your iFIT use and subscription during your Commitment Period and any subsequent Renewal Term. Unless you cancel your account or notify us at least twenty four (24) hours prior to the expiration of your commitment period that you do not wish to renew your subscription, your iFIT subscription will automatically renew for an additional month, one (1) year, or two (2) year period, as applicable, for the same duration as your initial commitment period ("The Renewal Term"), and you authorize us to bill the then-applicable membership fee and any taxes to the payment method we have on record for you.
Sources:
https://www.nordictrack.com/treadmills/x22i-incline-trainer
https://www.proform.com/treadmills/pro2000
https://www.ncbi.nlm.nih.gov/pmc/articles/PMC4504736/
https://www.mayoclinic.org/healthy-lifestyle/weight-loss/in-depth/metabolism/art-20046508