Our Best Treadmills For Seniors
UPDATED, February 1, 2022
Your health journey doesn't have an expiration date. Exercise and cardiorespiratory health are just as important in your senior years as they were when you were younger. The major difference between your workout routine in the past and your routine now may be that you need to pay extra attention to your body's signals and abilities as they may have changed over time (1). As a treadmill can provide a great workout solution for most users, finding the best treadmill may require additional research and considerations. For instance, joint range of movement (ROM) decreases with increasing age, and you may become more vulnerable to slips, falls, and other accidents (1). Keeping that in mind, you may focus more on acquiring a treadmill that is sturdy and comfortable to use. 
The Best Treadmills For Seniors
As there are a plethora of treadmills on the market to choose from, treadmill options for some users may be a bit more limited. The best treadmill is the one that best meets your current objectives and health needs. So, to narrow down the list, you have to know what questions to ask yourself. First, what are your fitness goals? Are you maintaining physical fitness or increasing endurance and speed? Secondly, what kind of space do you have in your home to store your equipment? Are you wanting a folding treadmill that can easily be lifted up out of the way?
To help you narrow down your treadmill options, here are our top treadmill picks. Each pick takes into consideration quality and relevant features.
NordicTrack Commercial 1750 Treadmill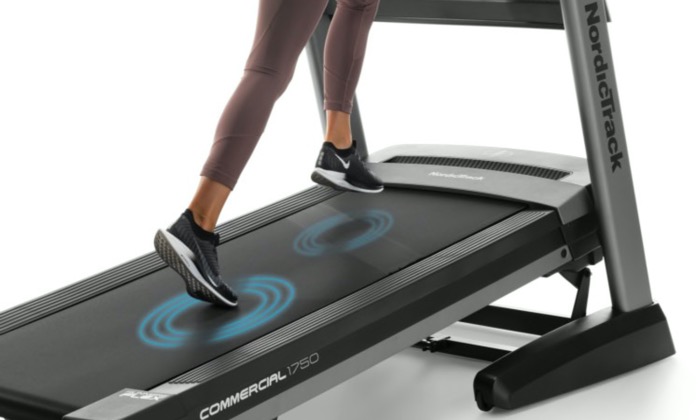 The NordicTrack Commercial 1750 Treadmill is one of our top treadmill picks here due to its comfort and treadmill features. The Commercial 1750 uses Runners Flex™ cushioning to absorb the impact of each step and provide a comfortable workout experience. The side and front handrails are available for added support, including side foot rails on either side of the treadmill to efficiently step up and down. They also provide an opportunity to take a break during a workout if needed. 
As strength and endurance may build up over time with consistent usage, a user can adjust the treadmill's incline all the way down to a -3% decline and all the way up to a 15% incline to provide more of a challenging workout (4). The treadmill's feature of its OneTouch® Controls and its range of incline allows a user to adjust their preferred activity level each day by the touch of a button.
For entertainment, including access to their own personal trainer, the Commercial 1750 comes enabled with iFIT®. iFIT allows users to engage in workouts that were filmed from all over the world and introduces a variety of different workouts available on and off equipment to help mix up any workout routine. Luckily, iFIT is included for one whole year with the purchase of the NordicTrack Commercial 1750 Treadmill, so a user can explore and have personal access without dedicating to a long-term subscription.
Other incredible features of the Commercial 1750 include:
Quiet drive incline technology
0-12 MPH speed
Dual Autobreeze™ workout fans
Upgraded 10-inch HD Smart Touchscreen
Built-in workouts
Automatic trainer control 
ProForm Carbon T10 Treadmill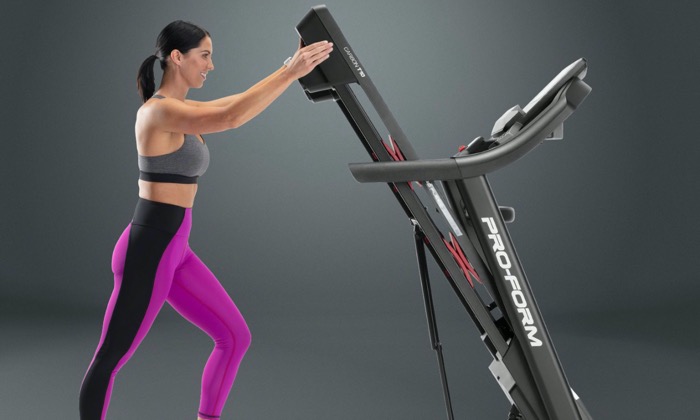 The ProForm Carbon T10 Treadmill is our next best treadmill here because of its space-saving ability. Engineered with the SpaceSaver® Design and EasyLift™ Assist, the Carbon T10 allows the opportunity of easy storage and movement, including the addition of a built-in feature that can allow a user to easily lift the deck up and down slowly and smoothly. 
The Carbon T10 has a roomy treadmill deck of 20-by-55 inches for a comfortable walking and running stride, as well as ISO Flex™ cushioning for a soft and cushioned workout surface.
Thanks to the treadmill's 10" Smart HD Touchscreen, a user can access and view workouts clearly and take full advantage of an iFIT membership, which comes with their ProForm Carbon T10 Treadmill purchase for one year.
To perfectly complement the Carbon T10's features above, other amazing advantages include:
Built-in CoolAire™ fan
Connected fitness tracking
0 – 10 MPH QuickSpeed® Button Control
0 – 12% Grade QuickSpeed® Button Control
Audio Auxiliary Port with Dual 2" Speakers
To make the Carbon T10 treadmill even more affordable, ProForm introduces their ProForm+ program. It's an affordable option to get the best treadmill for only one purchase of a three-year iFIT Family membership. See ProForm for more information.
Freemotion t8.9b Treadmill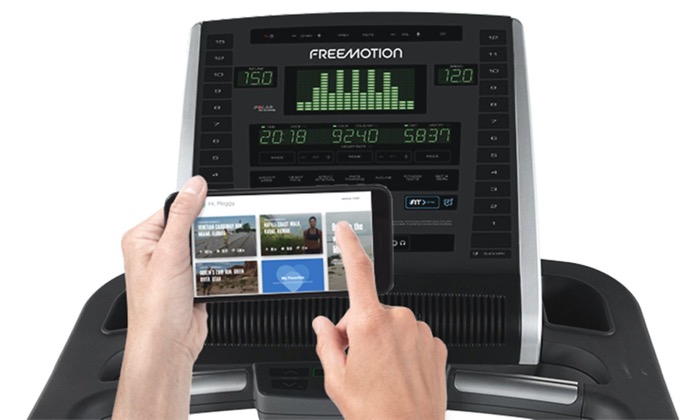 The Freemotion t8.9b Treadmill is one of our best treadmills here. It is sturdy and has other relevant features, such as large brace and side rails for wide foot placements, including a well-cushioned 2-sided deck that promotes low-impact workouts. 
The t8.9b treadmill also has an emergency stop feature with a safety key and clip. For additional support, Freemotion added other features including:
Integrated iFIT capability
Heart rate monitor*
Simple 1-STEP™ Controls
Preset programs
0% up to 15% incline range
Trainer-created workout apps
Easy-to-read user interface results
Why Home Treadmills Are A Good Idea
While accessing a local gym may be easy for some, for others leaving home can be seen as more of a challenge. And in a world where our health has been even more compromised in recent years, it is crucial that we find convenience and efficient ways to incorporate health-improving activity into our daily lives without having to compromise our comfort. That's how a home treadmill can provide a reliable and easy way to make activity a priority without going far and staying in your own environment.
Though walking outside can be beneficial as well, the outdoors can provide substantial obstacles of their own like unfavorable weather, on-coming traffic, uneven road conditions, and other walkers or runners, etc. Those provide dangers in themselves. Again, having a treadmill at home can help a user avoid those concerns and still provide the kind of activity one needs to stay healthy and active.
Qualities To Look For In A Treadmill
Every person will have his or her own treadmill preferences. Yours may depend on the space you have in your home, along with your specific health and fitness goals. For some, the most important details to look for in a home treadmill are stability, comfort, and efficiency of use. If you experience difficulty balancing, you need firm, long handrails. Additionally, precautions, such as an emergency stop button or clip, should assist you with stopping the machine in an emergency. It's important to have those features to rely on should you need them.
If your doctor is concerned about your heart rate or prefers you to stay within a certain range while exercising, then you should seek a treadmill that has heart rate monitor* feature. Some treadmills have heart rate monitors directly on the front handrails. Be sure to locate their placement before your workout.
When you're exercising, you probably don't want to wear your reading glasses as they may slip and cause a distraction as you workout; however, this may result in a visibility issue. Your treadmill's screen size and visibility may help you determine whether it is a good choice for you. Screens should be readable and adjustable for those with eyesight impairments.
Other treadmill features that could be useful here include:
Folding feature
Quiet treadmill motor
Workout programs
Cooling fans
Bluetooth® connectivity
Conclusion
As you look through the different treadmill options for seniors, keep your specific health concerns and preferences in mind. A well-cushioned, low-impact workout with stability and efficiency features is something that some users should have. Your treadmill purchasing decision will depend on your health, budget, and your living space, and we believe our top treadmill picks can help you make that final decision.
As you continue to search for the best treadmill for you and your home, you can report back here on Treadmill.com for all your treadmill information, including post treadmill purchase. We'll continue on supporting you and your treadmill needs after your initial purchase with our top treadmill workouts and iFIT support.
DISCLAIMER: This article is not intended to replace the advice of a medical professional. The above information should not be used to diagnose, treat, or prevent any disease or medical condition. Please consult your doctor before making any changes to your diet, sleep methods, daily activity, or fitness routine. Treadmill.com assumes no responsibility for any personal injury or damage sustained by any recommendations, opinions, or advice given in this article. Always follow the safety precautions included in the owner's manual of your fitness equipment.
*Heart rate monitors used for exercise such as the wireless heart rate monitoring chest strap, grip sensors, or forearm monitors are not medical devices, and their accuracy may be affected by a number of factors. They are also not intended to diagnose, treat, cure, or prevent any disease.
IFIT DISCLAIMER: iFIT requires an internet connection and Wi-Fi to function. You will be required to provide your credit card information upon sign-up for iFIT. Your Commitment Period may be month-to-month or twelve (12), eighteen (18), or thirty-six (36) months, depending on your agreement. Terms of Service shall apply to your iFIT use and subscription during your Commitment Period and any subsequent Renewal Term. Unless you cancel your account or notify us at least twenty four (24) hours prior to the expiration of your commitment period that you do not wish to renew your subscription, your iFIT subscription will automatically renew for an additional month, one (1) year, or two (2) year period, as applicable, for the same duration as your initial commitment period ("The Renewal Term"), and you authorize us to bill the then-applicable membership fee and any taxes to the payment method we have on record for you.
Sources:
https://www.physio-pedia.com/Effects_of_Ageing_on_Joints
https://treadmill.com/best-folding-treadmill-for-home-use/
https://www.nordictrack.com/treadmills/commercial-1750-treadmill
https://www.health.harvard.edu/staying-healthy/get-smart-about-treadmills
https://treadmill.com/ifit-support-how-to-get-started-with-ifit/
https://www.proform.com/blog/free-equipment-with-ifit-purchase/
https://www.proform.com/free-equipment
https://freemotionfitness.com/machine-for-home-gym/t8-9b-treadmill/