Best Treadmills Compared: NordicTrack vs ProForm
In our Best Treadmills Compared series, we put our treadmill expertise to work and help you decide between some of the biggest names in exercise equipment. We know choosing the right treadmill for your budget, fitness goals, and home gym requirements is a big deal—so we've done some of the research for you.
We're putting two of our fitness brands head-to-head: NordicTrack and ProForm. Each has a glowing reputation and a large selection of top-of-the-line exercise equipment, but only one can walk away a winner.
Before the battle of NordicTrack and ProForm, we'll take a step back to understand why it's so important to find the right treadmill. We'll also provide some tips on choosing the make and model that's perfect for you.
Choosing Your Perfect Treadmill
Last time, our Best Treadmills Compared article explored the value of a home gym and the benefits of walking or running on a treadmill. However, all of that depends on finding the right machine for your needs. That's right: The research you do before your purchase can impact the health and fitness benefits that you may be able to accomplish later.
Why The Right Treadmill Matters
With so many treadmills on the market, it's easy to think they're interchangeable. Sure, each one has its pros and cons—but at the end of the day, they're all just treadmills, right?
Not necessarily.
While all treadmills share similar basic features, each make and model has a different "ideal user" in mind. If you don't quite fit the vision, you can still benefit from the machine—but you may find you're compromising in ways you'd rather not.
For example, say you love hiking. You live for the feeling of terrain changing under your feet, navigating the ups and downs of the trail while reaping different benefits than when walking on a flat surface (1). Naturally, you may want a treadmill that can simulate upward and downward climbing conditions, but if you buy just any machine, you may find yourself stuck with a frankly disappointing incline and decline range.
That's why it's important to find the right exercise equipment for you. With the perfect combination of functions and features, you're more likely to experience workouts you'll love.
How To Choose
To choose the treadmill that will fit perfectly into your lifestyle, fitness routine, and home gym, you'll need to consider a few things, including:
Size
The size of your treadmill matters—not just because it must fit in your home gym, but because larger treadmills usually have wider belts, which gives you more room to move. While a small treadmill may seem manageable at first glance, it may not be worth it in the long run.
Maneuverability
To help solve the "big treadmill" problem, look for makes and models with high maneuverability. This includes folding features, transport wheels, easy setup and disassembly, plus clear instructions for every step.
Functionality
Treadmills come with different functions, so it's important to consider what you want before you start shopping. For example, research the incline range, maximum speed, and any included functions like an EKG monitor or progress tracker. Then, consider how each of these fits into your current workout goals or may help expand your routine.
Special Features
Depending on your needs, such as if you are looking for a top treadmill for a loved one, it may be helpful to find treadmills with additional potentially relevant features. These can include:
Handrails
Cushioned tread belt
Emergency stop options
Side foot rails
iFIT
If you're looking for exciting, challenging, and inspiring workouts, you may want a treadmill with iFIT® capabilities. With iFIT, you'll have access to personal trainers, workouts filmed in studios and on-location in some of the world's most fascinating environments, as well as routines that guide you in the use of your own home gym equipment, like incorporating your treadmill workout with dumbbells and bands. Plus, iFIT workouts are typically added to the iFIT library, so you won't have to worry about getting bored doing the same thing all the time.
For instance, you could mix up your treadmill workout routine by adding in the Iceland Cardio HIIT Series, combining incredible scenic views with the muscle-building benefits of doing HIIT (2). Trainer Hannah Eden will be your guide through running and weight-training routines, all while you take in the stunning views and learning about the history of Iceland.
NordicTrack Commercial 2450 Treadmill
Our head-to-head comparison begins with the NordicTrack Commercial 2450 Treadmill. Powerful, accessible, and comfortably positioned at the head of the exercise equipment industry, NordicTrack equipment like the Commercial 2450 Treadmill should help you with taking charge of your fitness routine.
Here are just a few things that make this model one of our favorites: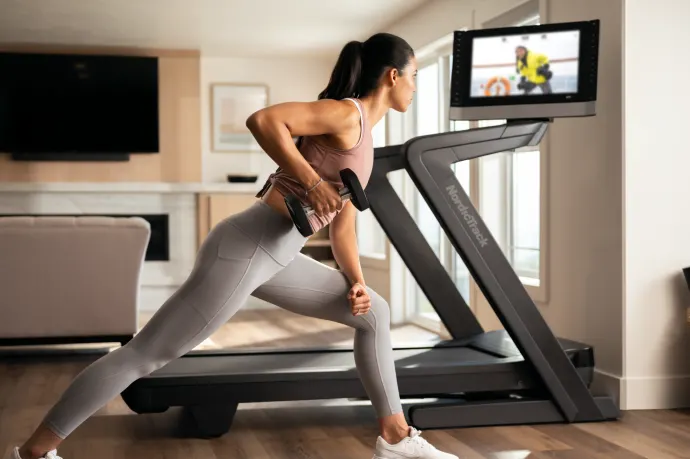 Details And Specs
The NordicTrack Commercial 2450 comes with plenty of bells and whistles to take your workout to the next level, especially with its new features and upgrades for 2022. These are some of its best features:
Technology
22" Tilt & pivot HD interactive touchscreen
Full iFIT compatibility, plus a 30-day iFIT Family Membership
Bluetooth® headphone connectivity
Premium audio speakers
ActivePulse™ technology
Functionality
-3% decline up to 15% incline
0 – 12 MPH
AutoAdjust™ control, allowing iFIT trainers to automate your settings for you
Comfort
22" x 60" Commercial tread belt
Quiet Drive Incline Tech capable of quickly and quietly mirroring outdoor terrain
Runners Flex™ cushioning
Dual AutoBreeze™ Fan
Professional Endorsement
Elite athletes from across multiple disciplines train on NordicTrack equipment with iFIT. You can follow their routines, challenge yourself to their workouts, and even benefit from guidance and advice with their iFIT training. With this treadmill, you'll be able to walk and run while following along with the pros!
ProForm Pro 9000 Treadmill
The second brand in our head-to-head match is our ProForm Pro 9000 Treadmill. Built with longevity in mind, this machine is a front-runner for that coveted spot in your home gym. It has plenty of functions and features that put it in the same class as the NordicTrack Commercial 2450—but will it come out on top?
Let's find out.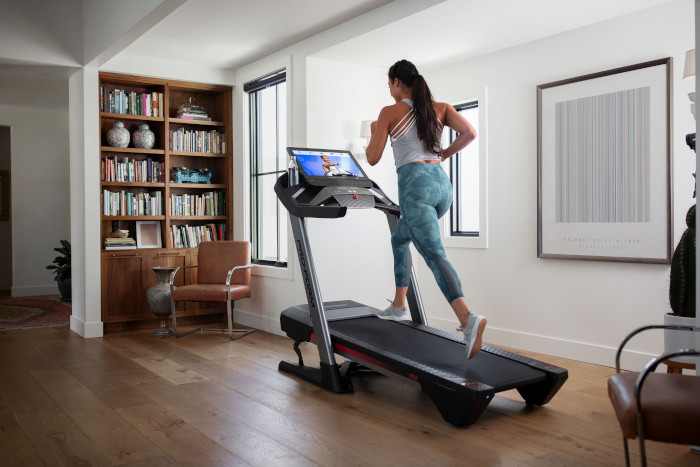 Details And Specs
The ProForm Pro 9000 has impressive features that can make your home gym the envy of any athlete. Here are just a few:
Technology
22" Smart HD interactive touchscreen
Full iFIT compatibility, plus a 30-day iFIT Family Membership
Bluetooth headphone connectivity
Functionality
12% incline and -3% decline
0 – 12 MPH with QuickSpeed® Button Controls
SpaceSaver® Design and EasyLift™ Assist for easy folding
Comfort
20" x 60" Commercial Tread Belt
ReBound Pro™ tread cushioning
CoolAire™ workout fan
Entertainment
If you're worried you'll find treadmill workouts boring and struggle to find the motivation necessary to strap on your walking shoes, look no further—the Pro 9000 was named our Best Treadmill For Entertainment. Its large, high-definition screen allows you to visualize your progress, follow guided workouts in stunning locations, and even experience interactive training sessions.
Which Treadmill Wins
Now that we've learned some information about the NordicTrack Commercial 2450 and the ProForm 9000, let's see who comes out on top when the NordicTrack Commercial 2450 and the ProForm Pro 9000 go head-to-head!
Similarities
The two machines have a lot in common, including their HD displays, iFIT compatibility, built-in workout fans, maximum speed, and cushioned treads. For the most part, these similarities suggest you'd be making a solid choice no matter which treadmill you choose.
Differences
While similar, the two models are far from identical. Here are the most important differences:
Incline: The Commercial 2450 has a 15% maximum incline, while the Pro 9000 has 12%.
Belt size: The Commercial 2450 also has a wider tread belt, coming in at 22" x 60," compared to the Pro 9000 with 20" x 60."
Machine size: The Pro 9000 is 77.3" L x 35.3" W x 59.6" H, while the Commercial 2450 is 80" L x 39" W x 59" H. Since length is often the most important measurement for home gyms, keep in mind that the Commercial 2450 is slightly longer.
And The Winner Is….
It's a tie!
With so many similarities between the NordicTrack Commercial 2450 and the ProForm Pro 9000, the real winner comes down to personal preference.
If you're looking for automatic speed and incline adjustments that make every workout seamless, not to mention a wider tread belt and larger incline range, consider the Commercial 2450. On the other hand, if you want top-notch entertainment options and a shorter machine footprint, consider the ProForm Pro 9000.
Conclusion
In our previous Best Treadmills Compared blog post, we covered the basics of home gym and treadmill benefits. Today, we expanded on those benefits by providing tips on how to choose a treadmill that will complement your workout style and goals.
With those tips in mind, we put two treadmills head-to-head to help you decide which one is better for your needs. After a thrilling battle, neither machine was able to come out on top; their evenly matched features and functions make them equal contenders, which means the title of "Best Treadmill" is yours to bestow.
If you're not quite ready to make a choice, don't worry. Treadmill.com is here to help you learn more about ProForm and NordicTrack exercise equipment—and to offer our own perspective, of course. Plus, for more head-to-head battles like this one, keep an eye on our blog for the next installment of our Best Treadmills Compared!
DISCLAIMER: This article is not intended to replace the advice of a medical professional. The above information should not be used to diagnose, treat, or prevent any disease or medical condition. Please consult your doctor before making any changes to your diet, sleep methods, daily activity, or fitness routine. Treadmill.com assumes no responsibility for any personal injury or damage sustained by any recommendations, opinions, or advice given in this article. Always follow the safety precautions included in the owner's manual of your fitness equipment.
IFIT DISCLAIMER: IFIT requires an internet connection and Wi-Fi to function. You will be required to provide your credit card information upon sign-up for IFIT. Your Commitment Period may be month-to-month or twelve (12), eighteen (18), or thirty-six (36) months, depending on your agreement. Terms of Service shall apply to your IFIT use and subscription during your Commitment Period and any subsequent Renewal Term. Unless you cancel your account or notify us at least twenty four (24) hours prior to the expiration of your commitment period that you do not wish to renew your subscription, your IFIT subscription will automatically renew for an additional month, one (1) year, or two (2) year period, as applicable, for the same duration as your initial commitment period ("The Renewal Term"), and you authorize us to bill the then-applicable membership fee and any taxes to the payment method we have on record for you.
Sources:
https://treadmill.com/category/best-treadmills/
https://treadmill.com/best-treadmills-compared-nordictrack-vs-freemotion/
https://aaptiv.com/magazine/running-hills-treadmill
https://treadmill.com/treadmill-walking-for-seniors-2021/
https://treadmill.com/treadmill-workout-iceland-cardio-hiit-series-ifit/
https://www.healthline.com/nutrition/benefits-of-hiit
https://www.nordictrack.com/treadmills/commercial-2450-treadmill
https://www.nordictrack.com/learn/commercial-2450-treadmill-frequently-asked-questions/
https://www.nordictrack.com/learn/train-body-mind-with-nordictrack-from-ifit/
https://www.proform.com/treadmills/pro9000
https://www.proform.com/blog/treadmill-maintenance-guidelines-home-gym/
https://www.proform.com/blog/faq-smart-pro-9000-treadmill/
https://treadmill.com/best-treadmill-for-running-at-home/
https://www.proform.com/blog/category/exercise-equipment/
https://www.nordictrack.com/treadmills