Marathon Treadmill Training: 4 Tips For Success
Whether you're a seasoned marathon winner or a first-time runner, one thing's for sure: You can't overstate the importance of treadmill training. When it comes to marathons, a treadmill might just be your ticket to greatness.
Marathon training in your home gym can be a great way to prepare for race day, not to mention an awesome workout—as long as you have the right setup, that is. That's why we're here to help you find the best treadmill for marathon training (and all the right gear and running workouts, too).
Ready to ignite your inner marathon runner? Let's get started!
Before Running A Marathon
Before you plan your marathon training routine, you need to know a few basics. Here's a closer look:
What Is A Marathon?
A marathon is a race covering 26 miles and 385 yards (3). The first one took place in Athens for the 1896 Olympics (4)—so when you train for a marathon, you join a long-time tradition of running to the finish line.
Why Do People Run Marathons?
There are plenty of reasons to become a marathon runner. The process of training for a marathon could result in benefits like improved cardiovascular fitness, muscular endurance, and self-esteem (5). Making it to race day is a huge accomplishment—and even if you don't win first place, you'll still have an incredible achievement under your belt.
Plus, you might encourage other people to reach for their own workout goals—like Eliud Kipchoge, a Kenyan runner whose eight Guinness World Records are a great inspiration for runners everywhere (6).
How Long Should You Train For A Marathon?
Your ideal marathon training routine will depend on your current fitness level. For example, first-time runners often need up to six months of training, while more experienced runners might need two months (5). It's important to stay consistent and work gradually toward a comfortable marathon pace—that way, you can reduce the risk of injury (5).
Choosing A Treadmill: Your Marathon Training Partner
Even once you know everything about running a marathon, there's still one thing to brush up on: the best treadmills for running at home. That's because a treadmill will be your marathon training partner from day one, helping you reach your pace goals and get a great workout along the way.
When it comes to treadmill marathon training, there are two machines that stand out from the crowd. They've got one important thing in common: iFIT® compatibility.
With an iFIT membership, you'll have access to an ever-expanding library of treadmill workout and marathon training routines, all led by world-class running trainers. You can also keep track of your progress, which means you might have a clearer idea of where you need to improve and how all your hard work will pay off on race day.
Here are our treadmill choices for serious treadmill marathon training: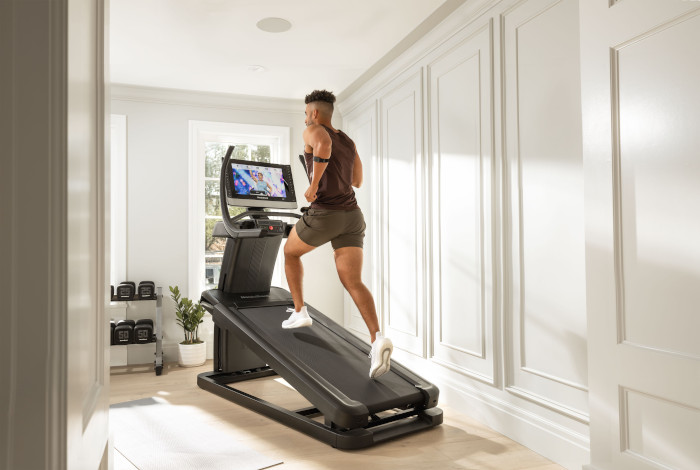 This show-stopper takes treadmill running to the next level. Also known as the Commercial X22i incline trainer (2022 Edition), this machine has features you're sure to fall in love with, like:
40% incline to -5% decline range
22- or 32-inch Rotating HD Touchscreen
ActivePulse™ Technology
Quiet drive incline tech
Bluetooth® headphone and heart rate connectivity*
30-day iFIT Family membership included with purchase
0-12 MPH speed
22" x 60" tread belt
Smart response drive system
AutoBreeze™ Fan
10-year frame warranty, 2-year parts warranty, 1-year labor warranty. See NordicTrack warranty details. 
iFIT memberships start at $15/mo. + tax, and auto-renew unless canceled in advance. Cancel at any time. Credit Card required for activation. Internet and Wi-Fi™ required.
With all these perks, the Elite Treadmill makes a great foundation for your marathon training routine—and an even better workout partner. That's because AutoAdjust™ Technology automatically changes speed and incline to match the terrain of your chosen iFIT workout, letting you focus on treadmill running instead of treadmill controlling. Plus, with 12 speeds and an industry-best incline and decline range, the Elite Treadmill has something for runners of all levels.
Better yet, the Elite Treadmill has been tested by running experts. Take, for example, ultra-marathoner Zach Bitter, who used the Elite Treadmill (formerly known as the Commercial X22i) to set a new 100-Mile Treadmill World Record. In fact, he beat the current record—12 hours and 32 minutes—by 22 minutes and 45 seconds. He ran 98.64 miles over 12 hours, all on his NordicTrack Treadmill. 
If the Elite Treadmill can handle nearly 100 miles in just 12 hours, you know it'll be a great marathon training partner.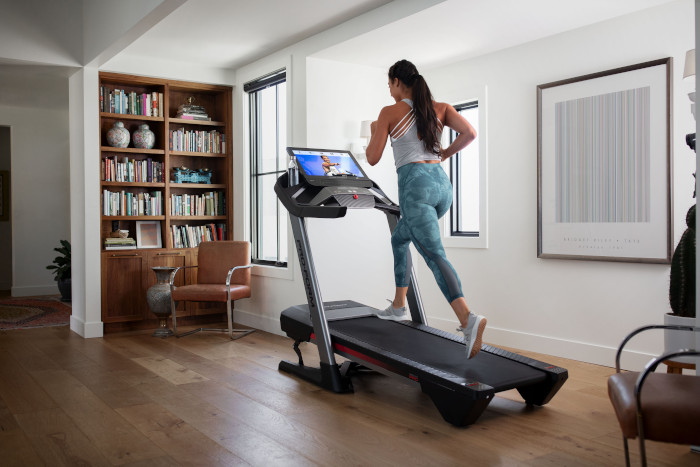 This machine, which ProForm calls "more than a treadmill," truly lives up to its name. Here are just a few features that will make treadmill marathon training a whole lot easier:
12% incline to -3% decline range
22" Smart HD touchscreen
0-12 MPH with Quickspeed® button control
30-day iFIT Family membership included with purchase
20" x 60" tread belt
CoolAire™ Fan
ReBound Pro™ cushioning
SpaceSaver® design with EasyLift™ assist
10-year frame warranty, 2-year parts warranty, 1-year labor warranty. See ProForm warranty details. 
Just like the NordicTrack Elite Treadmill, the ProForm Pro 9000 is fully iFIT compatible, so you can choose your favorite workout from a huge workout library with your iFIT membership. Plus, if you want to add a little globe-trotting to your marathon training routine, there are plenty of running workouts that take you across the world—all led by trainers who can help you reach your pace goals, improve your form, and more.
Perhaps most importantly, connected fitness tracking technology will help you recall every training session. This information can be used to shape future treadmill training, helping you plan a routine that responds to your needs, and might even make you more confident on race day.
Tips For Marathon Training On Your Treadmill
Once you have the best treadmill for marathon training, the rest is up to you. How will you take advantage of your machine's incredible features? What should you know to get the most out of your treadmill running?
Here are a few marathon training tips every runner should know:
Dress For Success
The last thing you want to do is hop on your treadmill for a marathon workout only to realize your exercise gear is uncomfortable. You need training apparel that can keep up with you. Luckily, iFIT doesn't just offer incredible workouts—you can also find all the essentials for your new running wardrobe at the iFIT Shop.
Use iFIT
Speaking of iFIT, don't forget to put this powerful technology to work during your treadmill running and marathon training. There are plenty of marathon training routines designed to help you prepare for race day. Check out a few of our favorites:
Want a sneak-peek at what's in store? Here's a closer look at the Bolivia Half-Marathon Training Series:
Keep in mind that iFIT isn't just running workouts. Hop off your treadmill and try strength training, yoga, meditation, and more. Plus, if you want to take your training on the go, just download the iFIT app and head out for a run!
Stay Hydrated
It's easy to get caught up in your running routine and forget to hydrate. However, it's important to replace the fluids you lose when you're exercising (16). This helps reduce the risk of heat stress and associated conditions while helping you maintain your running performance.
Water is usually the best choice for hydration, but if you're participating in particularly vigorous exercise for 60 minutes or more, you may benefit from a sports drink (16). Just remember to avoid soft drinks, juices, and caffeine.
It's even easier to stay hydrated when you have a specialty water bottle. Check out this Hydration+ Bottle, which puts you in control of adding a little flavor to your water. That way, getting enough to drink can be easy and enjoyable!
Get Smart About Running Recovery
After a long workout on your marathon treadmill, you probably want to head straight for the shower—but don't forget to spend a little time on post-workout recovery. Stretching may help you reduce the risk of injury and muscle soreness (17), while a tool like the NordicTrack Percussion Therapy Gun can help relax your body with four interchangeable massage heads to target certain muscles.
Conclusion
Every athlete can benefit from a little training—even super marathon runners like Guinness World Records holder, Eliud Kipchoge, and 100-Mile Treadmill World Record breaker, Zach Bitter. With a marathon treadmill in your home gym, you can prepare yourself to reach your marathon pace goals. And, with iFIT technology, you could have access to all kinds of guided workouts to help you get in the zone.
If you're ready to start training, take the first step by exploring our favorite marathon treadmill brands. Good luck on race day!
iFIT memberships start at $15/mo. + tax, and auto-renew unless canceled in advance. Cancel at any time. Credit Card required for activation. Internet and Wi-Fi™ required.
This article is not intended to replace the advice of a medical professional. The above information should not be used to diagnose, treat, or prevent any disease or medical condition. Please consult your doctor before making any changes to your diet, sleep methods, daily activity, or fitness routine. Treadmill.com assumes no responsibility for any personal injury or damage sustained by any recommendations, opinions, or advice given in this article. Always follow the safety precautions included in the owner's manual of your fitness equipment. *Heart rate monitors used for exercise such as the wireless heart rate monitoring chest strap, grip sensors, or forearm monitors are not medical devices, and their accuracy may be affected by a number of factors. They are also not intended to diagnose, treat, cure, or prevent any disease.
Sources: