Best Treadmills For Walking (Plus 4 Workout Tips)
Walking is probably something you do every day. How do you take it to the next level by turning this routine activity into a real workout? The answer is simple: Choose the right walking treadmill!
While you might think that a treadmill is ideal for runners and joggers, it can be a great choice for walking, too. Speed isn't everything—you can also change incline and workout length to see different benefits.
But what are the best treadmills for walking? Here's a look at our top choices—plus a few workout tips to get you started.
Best Treadmills For Walking: Our Top Picks
Here at Treadmill.com, we're all about helping you find the best treadmill for your needs. Compact treadmill, foldable treadmill, running treadmill—we've seen them all. Today, we're rounding up some of the most impressive walking treadmills on the market. Here are our top picks:
ProForm Carbon T14
If you want a home treadmill that can turn everyday walking into a real workout, you couldn't do much better than the ProForm Carbon T14. It has everything you'd expect from a modern machine and then some, which is why it's one of our top picks for walking treadmills.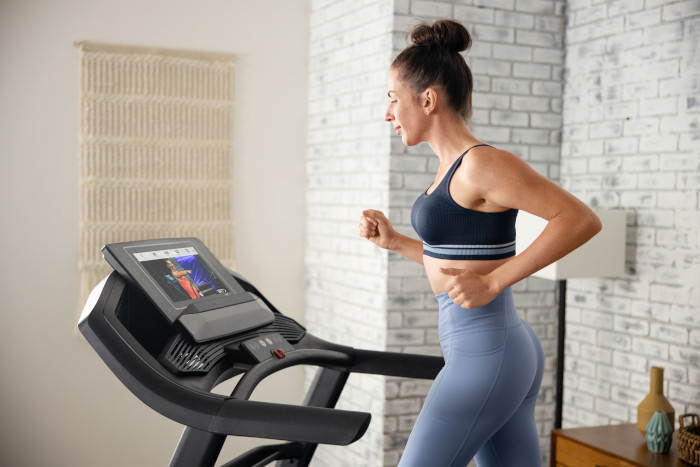 Price
ProForm makes purchasing a home treadmill affordable by offering notable payment options, so you have the flexibility you need to get your hands on this incredible workout equipment.
Features
The Carbon T14 is a folding treadmill packed full of features. It boasts an incline range of 0% to 12%, which means you can make your walking routine feel a little more like a hike or trail adventure. The machine also offers a speed range up to 10 mph, although brisk walking is usually between two-and-a-half and four mph (3). That means this walking treadmill isn't just a walking treadmill—it can be used for jogging and running, too!
If it's a high-tech workout experience you're after, the Carbon T14 delivers. Its user-friendly 14" HD touchscreen immerses you in guided exercise routines and makes it easy to view, save, and track your progress. Plus, dual 2" speakers and Bluetooth® compatibility allow you to turn up the tunes and walk to the beat.
On top of that, you can also expect top-of-the-line comfort from this home treadmill. Thanks to ISO FlexTM Cushioning, the running belt almost feels like walking on a cloud. (Just remember your treadmill shoes have a lot to do with comfort on the treadmill!) You'll also enjoy the built-in CoolAireTM Fan, which can cool you down or make you feel like you're surrounded by an ocean breeze, and the 300 lb. weight capacity for a solid, reliable experience. Don't forget that the Carbon T14 uses EasyLift Assist, which means it collapses and becomes a compact treadmill for easy storage in your home gym.
iFIT®
One of the best features of the Carbon T14—and, in our humble opinion, the most impressive—is its iFIT compatibility. iFIT gives you access to workouts led by professional athletes and trainers, helping you take your walks to the next level. iFIT also offers interactive training sessions that are filmed all across the world, which means one workout program might take you to the pristine beaches of Hawaii while another might have you exploring the misty majesty of Scotland. It's all brought to life with the 14" HD touchscreen and immersive audio features.
Better yet, your Carbon T14 purchase comes with an included 30-day iFIT trial, so you can see all these benefits for yourself.
NordicTrack Commercial 2450
When it comes to walking treadmills, we couldn't pick just one favorite—especially with NordicTrack treadmills in the lineup. Options like the NordicTrack Commercial 1750 are a great choice for runners, while the NordicTrack Commercial X22i makes waves among incline fans. But what does NordicTrack have in store for your walking workout?
That's where the NordicTrack Commercial 2450 comes in.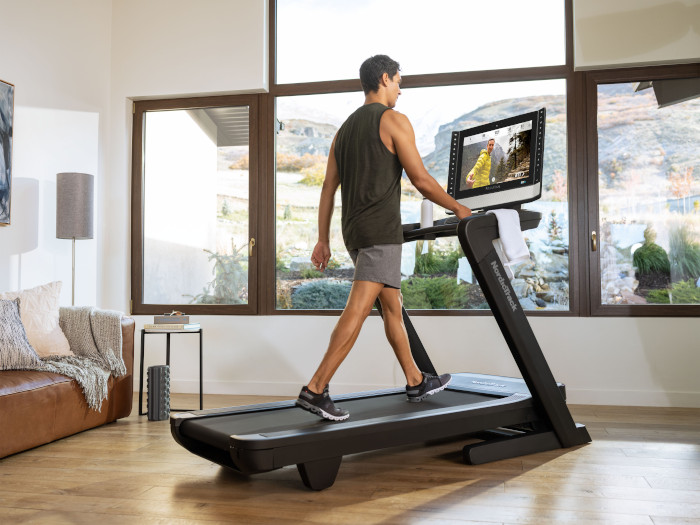 Price
The Commercial 2450's superior features and unmatched design makes for a home treadmill that you'll want to invest in. Like ProForm, NordicTrack offers plenty of options for financing and flexibility.
Features
Looking for a top-notch walking experience? The Commercial 2450 has everything you need to kick your walks into high gear. Take, for example, the incline range: -3% to 15%. That means you can walk uphill and downhill at your leisure, adding a new dimension to your exercise. The speed also goes up to 12 mph, so you have even more room to experiment with your ideal walking gait (and the chance to become a runner, too).
The NordicTrack 2450 specs also include impressive tech features. Don't settle for a simple LED display; this 22" Tilt & Pivot HD Touchscreen immerses you in your workout and gives you the freedom to hop off the machine for different motions. You'll also enjoy premium audio speakers—our workout playlists never sounded better!
You can also expect world-class comfort from the Commercial 2450. It has a lower step-up height—a big deal for anyone with limited mobility or muscle pain—and a built-in AutoBreezeTM Fan for a convenient breeze. You'll also enjoy the 22" x 60" running belt, designed to make your walks more inviting, and a 300 lb. weight capacity for maximum reliability.
iFIT
Good news, iFIT fans: The Commercial 2450 is fully iFIT compatible! This fitness treadmill helps you get the most out of monthly challenges and milestones, progressive walking series and workout program options, and other fun features. Your iFIT trainers can even manage speed and incline settings. It's like giving someone else the remote control so all you have to do is walk.
NordicTrack also covers great iFIT classes and everything else it has to offer on their blog. That means you'll always be part of the NordicTrack community.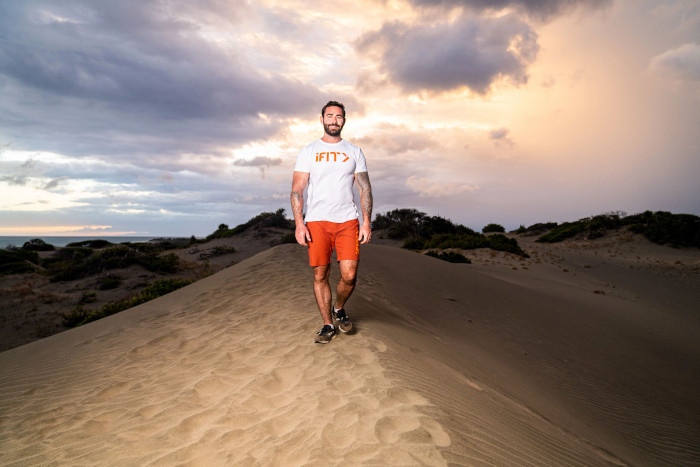 Tips For Your Treadmill Workout
Once you've chosen the best treadmill for walking exercise, it's time to focus on what comes after: the workout itself. Here are a few smart tips to help you walk like a pro:
1. Use iFIT Walking Workout Programs
There are plenty of programs for treadmill walking workout for beginners, up to advanced, available in the ever-expanding iFIT library. Choose your favorite or experiment with different series so you always have something new to look forward to.
2. Sign Up For Your 30-Day iFIT Trial
Don't forget that you can sign up for a free 30-day iFIT trial. This helps you get started and gives you a taste of what you can expect from iFIT workouts, walking programs, progress tracking, and more.
3. Keep Track Of Your Progress
As you walk, use iFIT to keep track of things like speed and distance. (This is where having a big screen instead of a limited LED display comes in handy!) That way, you can see your progress and let iFIT help you improve even more.
4. Adjust Your Form
You might not think too much about form when you're walking around the house or grocery store, but the treadmill is a great place to work on your stride. iFIT trainers can help you improve your form with guided exercises.
Conclusion
There's an old saying that goes, "You have to walk before you can run." At Treadmill.com, we know there's a step before that: You have to choose the best walking treadmill before you can walk!
No matter what your needs, budget, and fitness goals look like, there's a treadmill for you. We have all the details on the best folding treadmill on the market, the ideal budget treadmill for all you smart spenders, reviews of the best incline treadmill options, and more. We can also fill you in on our long-time favorites, like the NordicTrack X22i and the ProForm Pro 9000.
If you want to see our insights and recommendations, check out our treadmill comparisons for a look at how NordicTrack and ProForm compare.
iFIT memberships start at $15/mo. + tax, and auto-renew unless canceled in advance. Cancel at any time. Credit Card required for activation. Internet and Wi-Fi™ required. 
This article is not intended to replace the advice of a medical professional. The above information should not be used to diagnose, treat, or prevent any disease or medical condition. Please consult your doctor before making any changes to your diet, sleep methods, daily activity, or fitness routine. Treadmill.com assumes no responsibility for any personal injury or damage sustained by any recommendations, opinions, or advice given in this article. Always follow the safety precautions included in the owner's manual of your fitness equipment.
Sources:

https://treadmill.com/category/best-treadmills/

https://www.proform.com/treadmills/carbon-t14

https://health.gov/sites/default/files/2019-09/Physical_Activity_Guidelines_2nd_edition.pdf

https://www.nordictrack.com/learn/what-running-shoes-are-best-for-your-home-treadmill/

https://www.nordictrack.com/treadmills/commercial-1750-treadmill

https://www.nordictrack.com/treadmills/x22i-incline-trainer-NTL29221

https://www.nordictrack.com/treadmills/commercial-2450-treadmill

https://www.nordictrack.com/learn/commercial-2450-treadmill-frequently-asked-questions/

https://www.nordictrack.com/learn/workouts-offered-on-ifit/

https://www.nordictrack.com/learn/treadmill-walking-workouts-for-beginners/

https://treadmill.com/best-folding-treadmill-for-home-use/

https://treadmill.com/best-treadmills-under-1100/

https://treadmill.com/best-treadmill-for-automatic-speed-incline/

https://treadmill.com/treadmill-comparison-nordictrack-commercial-1750-vs-proform-pro-9000/