Treadmill Training For Marathon Runners
Running on the treadmill may not be at the top of everyone's training list, but that doesn't stop many marathoners from doing the bulk of their training indoors on their treadmill. While running outdoors may be more visually appealing for some, other factors like weather and rough terrain play a large part in an unfavorable experience.
Marathon Runners Training On A Treadmill
Did you know that many big-time marathoners utilize a treadmill as their training tool? See below how a treadmill was used to hit record highs and improve marathon times for these professionals.
Hitting Records While Traveling
Michael Wardian ran a 50k on the treadmill of a cruise ship returning to the United States from the Bahamas with a time of 3:06:24, only 47 seconds short of hitting a world record. And later, succeeded in breaking this record on another treadmill in New York City with a time of 3:03:56 only 36 hours later.
Beating The Weather
Christine Clark won the 2000 U.S. Olympic Marathon Trials by training in a heated room on her treadmill at home in Alaska.
Marathon Training With Kids
Kara Goucher used her treadmill while pregnant and hit a 2:24:52 at the Boston Marathon only seven months after giving birth to her son, Colt.
Avoiding Harsh Conditions
Kim Jones, the two-time runner-up in Boston, did 80 percent of her training on a treadmill indoors, allowing her to avoid conditions that would irritate her asthma.
Focusing On Faster Times
Expert marathon coach, Greg McMillan, offers great tips and workouts on a treadmill to increase your speed.
Runner's World® says it best:
"…consider the treadmill. It's hard to imagine a better surface for balanced running. At the very least, a treadmill provides a great surface for beginning runners, runners who are recovering from an injury, and perhaps even marathoners aiming to increase mileage without increasing their injury risk. "
How To Choose The Best Treadmill For Marathon Training
Now that you can see where you too can benefit from using a treadmill for your marathon training, let's go over how to choose the best treadmill to train on.
Hal Higdon, winner of four World Masters Championships, finished over a hundred marathons, and longest contributing writer to Runner's World®, kept it simple with his timeless advice on what to look for in a treadmill in his book, Hal Higdon's Smart Running: Expert Advice On Training, Motivation, Injury Prevention, Nutrition And Good Health.
"1. The control panel shouldn't jiggle. You need a display that you can read.

2. The treadmill should have a handle bar across the front. When you change settings, you need the stability that the bar offers.

3. The treadmill should have a surface that's not too soft. Determining what is comfortable for you will require running on different models, but it's worth your time."
Treadmills have come a long way since Higdon offered this advice. Today, there are dozens of brands that offer different treadmills with myriads of enticing features. So, let's go over our top treadmills for marathon training.
NordicTrack X32i Incline Treadmill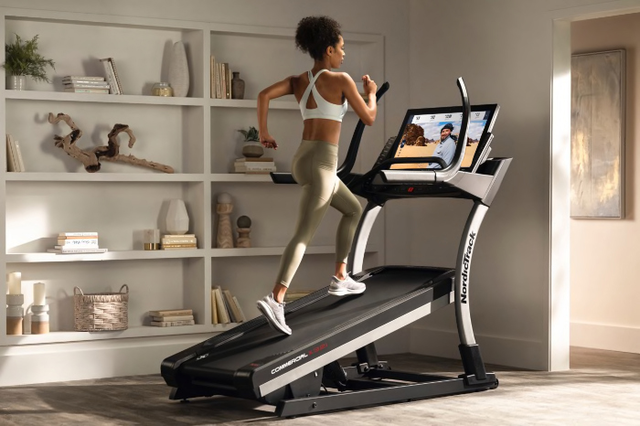 The NordicTrack X32i is a durable treadmill that'll withstand long runs with an unmatched incline range of -6% up to 40%, which makes for great hill training.
As Higdon recommended above, choose a treadmill with a sturdy control panel, and the X32i has been equipped with just that. Complemented with a 32 inch SMART HD Touchscreen, you can take advantage of this technological advanced panel with its OneTouch® Control feature for a seamless transition between features.
Freemotion i22.9 Incline Trainer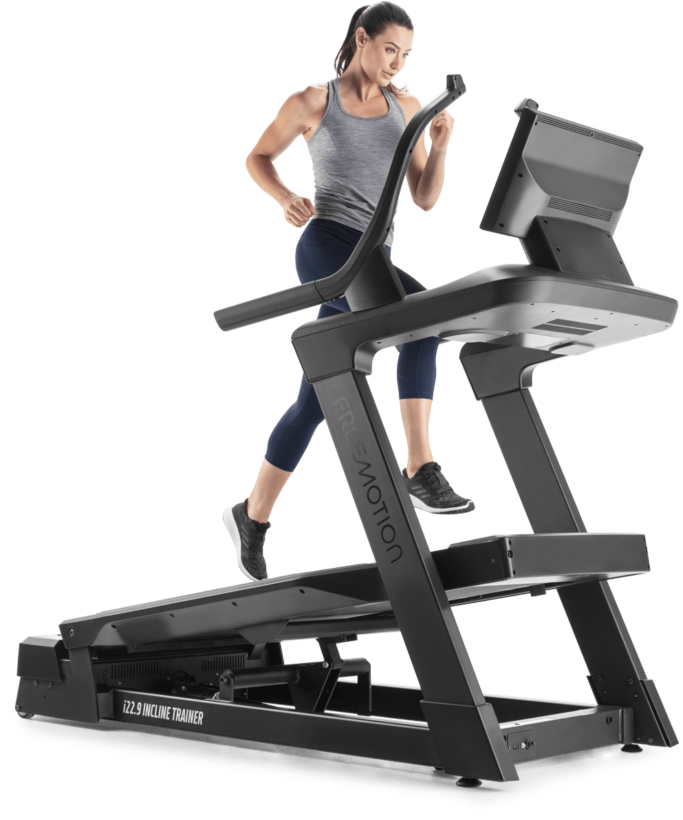 With the Freemotion i22.9 Incline Trainer, you're getting the ultimate marathon training experience. Designed with additional stability with handle bars located in front and beside you, you're adhering to Higdon's stability recommendation.
ProForm Carbon T10 Treadmill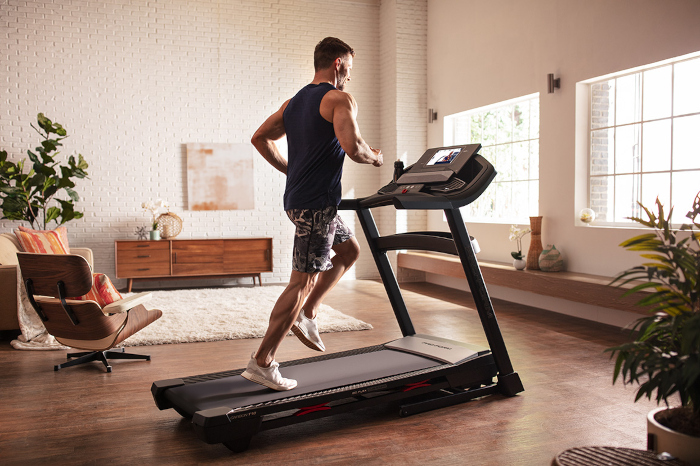 The ProForm Carbon T10 Treadmill provides a user with the running surface of a 20-by-55 inch deck that was built with ISO Flex™ cushioning, so you're able to train more comfortably. The Carbon T10 belt meets Higdon's recommendation of a treadmill's surface of being comfortable, yet not too soft.
iFIT® Compatible Treadmills
One of the all-time best features that each of these treadmills include is their iFIT capability. As an interactive personal training program, iFIT can take your marathon training to the next level with challenging workouts within a studio setting and destination workouts filmed all over the world. Once you've finished your run, continue on with your recovery via the iFIT app, which can be used even while you're off of your treadmill. The convenience that iFIT brings to your home treadmill and on the go makes for a well-organized way of training for your next marathon no matter your location.
So, what once was a grueling and time-consuming training schedule can now be your favorite passing time with your treadmill and iFIT.
If you're new to the iFIT family, iFIT is offering a 30-day free trial for new users*, so you can give iFIT a test run for 30 days before committing to a monthly subscription.
Using Your Treadmill To Win Your Next Marathon
As we revisit McMillan's advice, he offers his guidance for training on your treadmill for your next marathon.
"In treadmill running you don't have to overcome wind resistance since you stay in the same spot. As a result, you need to set the treadmill to 1 percent incline (unless doing hill repeats) to approximate the 7 percent energy cost you usually use to overcome air resistance.
Second, in treadmill running, the ground runs out from underneath you instead of you pushing against the ground to propel yourself over it. As a result, the biomechanics are slightly different. Also, since there are no curves or undulations in the surface of the treadmill belt, your footplant is exactly the same nearly every stride.
Take care when starting treadmill running to let your body adjust to the different demands. You need to gradually introduce treadmill running to your winter routine, and it's a good idea to do some preparatory easy treadmill runs before you do treadmill training."
Conclusion
Now that you can see how successful marathoners have been by using a treadmill for their own training, how to choose the best treadmill to use, and using that treadmill to enhance your performance, you're now on track to making your marathon dreams come true.
And if you forget McMillan's advice above, the one thing you should remember is to just get on your treadmill and run!
DISCLAIMER: This article is not intended to replace the advice of a medical professional. The above information should not be used to diagnose, treat, or prevent any disease or medical condition. Please consult your doctor before making any changes to your diet, sleep methods, daily activity, or fitness routine. Treadmill.com assumes no responsibility for any personal injury or damage sustained by any recommendations, opinions, or advice given in this article. Always follow the safety precautions included in the owner's manual of your fitness equipment.
IFIT DISCLAIMER: *iFIT requires an internet connection and Wi-Fi to function. You will be required to provide your credit card information upon sign-up for iFIT. Your Commitment Period may be month-to-month or twelve (12), eighteen (18), or thirty-six (36) months, depending on your agreement. Terms shall apply to your iFIT use and subscription during your Commitment Period and any subsequent Renewal Term. Unless you cancel your account or notify us at least twenty four (24) hours prior to the expiration of your commitment period that you do not wish to renew your subscription, your iFIT subscription will automatically renew for an additional month, one (1) year, or two (2) year period, as applicable, for the same duration as your initial commitment period ("The Renewal Term"), and you authorize us to bill the then-applicable membership fee and any taxes to the payment method we have on record for you.
Sources:
https://www.irunfar.com/2015/03/treadmill-diaries-interviews-with-treadmill-world-record-holders-denis-mikhaylove-gemma-carter-and-michael-wardian.html
https://www.webmd.com/fitness-exercise/features/treadmill-mom-goes-for-gold#1
https://www.espn.com/espnw/athletes-life/story/_/id/11746392/how-kara-goucher-finds-family-marathon-training-herself
https://www.roadrunnersports.com/rrs/content/content.jsp?contentId=300125
https://www.mcmillanrunning.com/treadmill-training-guide/
https://www.runnersworld.com/health-injuries/a20819497/the-10-laws-of-injury-prevention/
http://www.halhigdon.com/biography/
https://www.runnersworld.com/author/210858/hal-higdon/
https://books.google.com/books?id=2qznPUVybfUC&pg=PA15&lpg#v=onepage&q&f=false
https://www.nordictrack.com/incline-trainers/commercial-x32i
https://freemotionfitness.com/cardio-machine/i22-9-incline-trainer/
https://www.proform.com/treadmills/carbon-t10
https://www.nordictrack.com/learn/ifit-membership-frequently-asked-questions/