Best Treadmills Compared: NordicTrack Vs Freemotion
When it comes to outfitting your home gym with exercise equipment, you only want the best. However, with so many makes and models to choose from, you might feel a bit overwhelmed when trying to decide what's best for you.
Luckily, you've come to the right place.
Here at Treadmill.com, we're not just treadmill fans—we're also brand aficionados, model connoisseurs, and leaders in the running world. (Okay—self-proclaimed.) We've spent enough time reviewing and researching treadmills to know which stand out from the crowd, and now, we're here to pass our wisdom on to you.
Today, we'll compare two of our brands—the NordicTrack X32i and Freemotion i22.9—to see which treadmill comes out on top. But first, we'll take a closer look at why all this research is worth it and why a treadmill belongs in your home gym.
Why Add A Treadmill To Your Home Gym
To fully understand the role a treadmill can play in your fitness routine and wellness goals, it's important to analyze the environment they exist within: the home gym.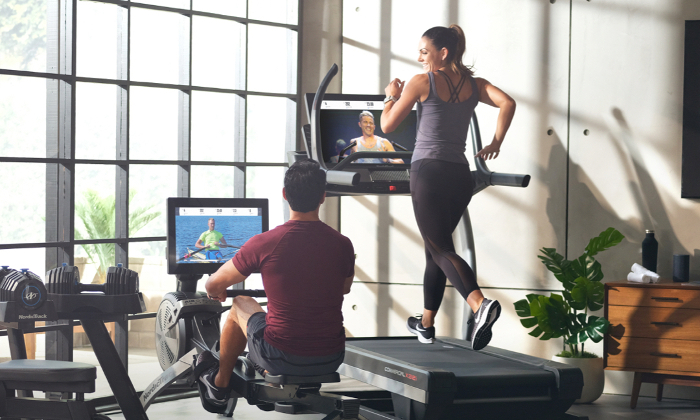 Benefits Of Home Gyms
The benefits of home gyms are numerous. Since there are several, let's go over the highlights:
Flexibility
A home gym has no operating hours. There also aren't hundreds of gym users clamoring for a spot on just a handful of machines, which means your workouts can happen on your schedule—not everyone else's.
Accessibility
Don't feel like driving to the gym or heading outside for a running or cycling workout? No problem—a home gym is literally right around the corner. This accessibility is especially valuable if bad weather frequently keeps you indoors.
Control
With a home gym, you get to some control, from the setup to the types of exercise equipment you buy. That means you can build a fitness repertoire fully tailored to your needs, no matter what they may be.
Benefits Of Treadmills
Now that you know why home gyms are such a big deal, let's find out why treadmills are a must-have:
Health Benefits
Treadmills promote a long list of health benefits. Running strengthens lower-body muscles like your glutes, calves, and hamstrings (2), may lower your risk of fatal heart attacks and strokes (3), and can increase your maximum oxygen uptake (4), which may make exercise and everyday tasks easier. Keep in mind that potential health benefits of treadmill training depend on a number of factors, including having a workout game plan, eating healthily, working out consistently, having proper workout form, staying hydrated, sex, basal metabolism, ambient temperature, and height.
Now, compliment your regular treadmill activity with a nutritious meal plan, then you can take even more advantage of your time and efforts.
Adaptability
Already have a workout routine? Treadmills are highly adaptable, meaning you can add them to existing programs in whatever way you like. For example, if you like lifting weights, consider taking your dumbbells with you on a treadmill walk or run. But if you're new to using dumbbells, then make sure to ease them into your routine. You don't want to compromise your form while you workout.
iFIT®
Some of our top treadmills come with built-in access to iFIT, a virtual training platform that gives you access to personal trainers and out-of-this-world workouts via your machine and the iFIT app. You'll be able to walk, run, and do interval training in some of the most breathtaking locations on the planet, all while guided by fitness experts who can automatically adjust your speed and incline settings so you don't have to.
NordicTrack Commercial X32i Treadmill
Now, the first contender in our head-to-head treadmill comparison is our NordicTrack Commercial X32i Treadmill. This impressive machine comes from a pedigree of high-quality exercise equipment, and it shows in every well-crafted detail and fitness feature. Featured in Forbes®, this treadmill is a favorite here at Treadmill.com—in fact, we named it our Best Treadmill For Hill Runners.
Here's a closer look at what makes this model stand out: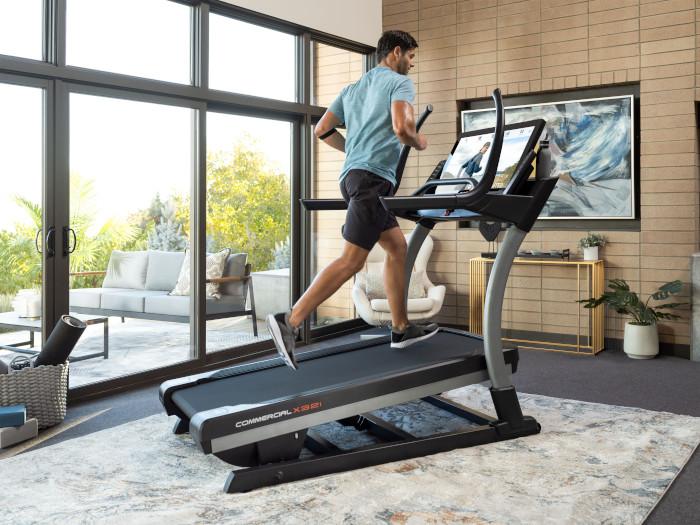 Details And Specs
The beauty of the Commercial X32i is in the details. We're big fans of these features, and we think you will be too:
Technology
32" HD Smart touchscreen
Full iFIT compatibility, plus a 30-day iFIT Family Membership
Access to iFIT personal trainers
Custom workout locations with Google Maps® technology
Functionality
300 Lb. user weight capacity
0 – 12 MPH
-6% decline up to 40% incline
Comfort
22" x 65" commercial tread belt
Dual AutoBreeze™ workout fans
Reflex Cushioning™
New Features
Perhaps the most exciting thing about this treadmill is a new feature to the workout scene: its iFIT SmartAdjust™ compatibility.
SmartAdjust™ technology can be your best friend when it comes to tailored workout routines. It stores your preferences for details like speed, incline, and duration, and then it automatically adjusts these settings for future workouts. Even better, it tracks your progress—which means, as you get more comfortable with your settings, SmartAdjust™ will gradually increase the intensity to help you keep making progress.
SmartAdjust™ is also fully compatible with iFIT, so matching your speed or incline to your iFIT trainer's recommendations won't interrupt your personalized settings. You can also take manual control of your workout whenever you want, all with a tap on your treadmill's touchscreen.
Freemotion i22.9 Incline Trainer
The second contender in our comparison is our Freemotion i22.9 Incline Trainer. As the name suggests, this machine is designed with hills in mind. The i22.9 is a solid competitor, boasting full iFIT compatibility and impressive workout features.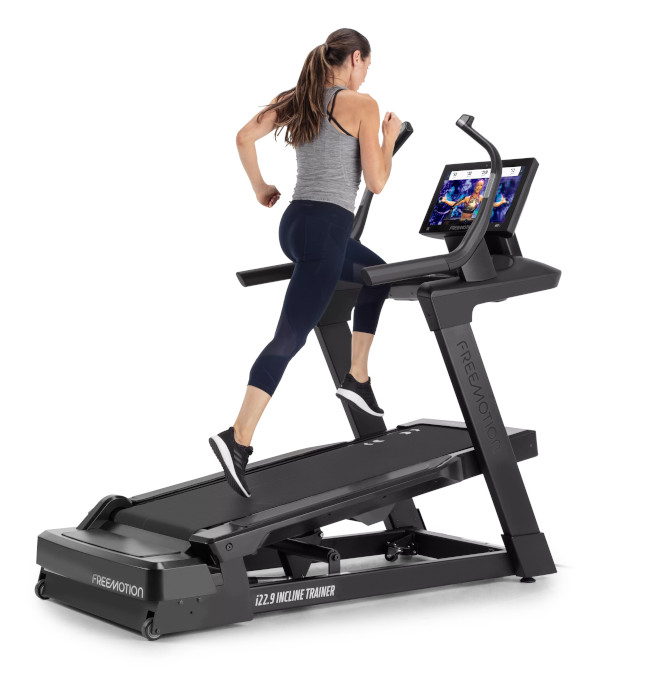 Details And Specs
Here's a closer look at what makes the Freemotion i22.9 unique:
Technology
22" HD Smart touchscreen
Full iFIT compatibility, plus a 30-day iFIT Individual Membership
Custom workout locations with Google Maps® technology
Included USB port
Functionality
400 Lb. user weight capacity
0 – 15 MPH
-3% decline up to 30% incline
Comfort
21.5" x 60" running surface
Adjustable 3-speed fan and optional AutoBreeze™ fan technology
Soft-touch upper-body grips
Which Treadmill Wins
It's time for the main event: comparing the NordicTrack Commercial X32i Treadmill and the Freemotion i22.9 Incline Trainer!
Similarities
The NordicTrack Commercial X32i and the Freemotion i22.9 share some common features. Keeping track of these similarities helps you understand the industry standard and should help you with the selection process.
Here are a few things the treadmills have in common:
iFIT compatibility
Google Maps® compatibility
Workout fans
Differences
Naturally, the two models also have some significant differences. Let's take a closer look:
Speed: The Freemotion i22.9 has a maximum speed of 15 MPH, while the X32i has a maximum speed of 12 MPH.
Incline And Decline Range: The NordicTrack Commercial X32i has an incline of up to 40% and a decline of -6%. Whereas the Freemotion i22.9 has 30% incline and -3% decline.
Weight Capacity: The weight capacity of the Freemotion i22.9 is 100lbs. greater than that of the NordicTrack Commercial X32i.
Customization: Thanks to SmartAdjust™ technology, walks or runs on the NordicTrack Commercial X32i aren't just customizable—they can also automatically adjust to the progress you're making in every workout.
And The Winner Is….
When all the similarities and differences are taken into account, we believe there's a clear winner: our NordicTrack Commercial X32i Treadmill.
NordicTrack's impressive incline and decline range gives you the ability to work harder than when walking or running on a flat surface (11). It also has vital comfort features that help mitigate the impact on your joints, which is important for long-distance or high-intensity users or anyone with an existing injury (12). Finally, its SmartAdjust™ compatibility makes it more than just exercise equipment. Instead, it's an intelligent, active workout partner capable of helping avoid stagnancy and allows a user to continue challenging themself.
Conclusion
There's a lot to consider when adding a treadmill to your home gym. For instance, it's important to understand the benefits of having a home gym in the first place—and after that, learning the benefits of a treadmill and using its features to your advantage.
Even with all that background information out of the way, you still need to do the hard work of comparing treadmill makes and models. Luckily, our Best Treadmills Compared series is here to help—and in today's head-to-head battle, our NordicTrack Commercial X32i Treadmill came out on top. While our Freemotion i22.9 is a solid contender, NordicTrack's incline range, comfort, and automation and customization options just took the cake. Ultimately, however, the machine that you select is your decision and the benefits that you may receive from your selection depend on a number of factors, including your workout form, frequency, and eating healthily.
To see more treadmill comparisons, check out our NordicTrack Commercial 1750 Treadmill Vs ProForm Pro 9000 Treadmill.
DISCLAIMER: This article is not intended to replace the advice of a medical professional. The above information should not be used to diagnose, treat, or prevent any disease or medical condition. Please consult your doctor before making any changes to your diet, sleep methods, daily activity, or fitness routine. Treadmill.com assumes no responsibility for any personal injury or damage sustained by any recommendations, opinions, or advice given in this article. Always follow the safety precautions included in the owner's manual of your fitness equipment.
IFIT DISCLAIMER: IFIT requires an internet connection and Wi-Fi to function. You will be required to provide your credit card information upon sign-up for IFIT. Your Commitment Period may be month-to-month or twelve (12), eighteen (18), or thirty-six (36) months, depending on your agreement. Terms of Service shall apply to your IFIT use and subscription during your Commitment Period and any subsequent Renewal Term. Unless you cancel your account or notify us at least twenty four (24) hours prior to the expiration of your commitment period that you do not wish to renew your subscription, your IFIT subscription will automatically renew for an additional month, one (1) year, or two (2) year period, as applicable, for the same duration as your initial commitment period ("The Renewal Term"), and you authorize us to bill the then-applicable membership fee and any taxes to the payment method we have on record for you.
Sources:
https://www.nordictrack.com/learn/5-reasons-for-owning-a-home-gym/
(2017, May 1). Get smart about treadmills. Harvard Health Publishing. https://www.health.harvard.edu/staying-healthy/get-smart-about-treadmills
Chertoff, J. (2018, April 17). What are the benefits and risks of running every day? Healthline. https://www.healthline.com/health/fitness-exercise/running-everyday
Huizen, J. (2020, January 20). Is it good to run every day? Medical News Today. https://www.medicalnewstoday.com/articles/running-every-day
https://www.nordictrack.com/learn/best-dumbbells-for-home-gym/
https://treadmill.com/ifit-support-how-to-get-started-with-ifit/
https://www.nordictrack.com/incline-trainers/commercial-x32i
https://www.nordictrack.com/learn/commercial-x32i-incline-treadmill-and-ifit-at-forbes/
https://treadmill.com/best-treadmill-for-running-at-home/
https://www.nordictrack.com/learn/ifit-smartadjust/
https://freemotionfitness.com/machine-for-home-gym/i22-9-incline-trainer/
Lindberg, S. (2021, March 3). Need a change of pace? Try walking on an incline. Healthline. https://www.healthline.com/nutrition/walking-on-incline#benefits
Tigar, L. (n.d.). Is the treadmill bad for your knees? Aaptiv. https://aaptiv.com/magazine/treadmill-impacts-knees
https://www.nordictrack.com/treadmills
https://treadmill.com/category/best-treadmills/
https://treadmill.com/treadmill-comparison-nordictrack-commercial-1750-vs-proform-pro-9000/