From the Gym To Your Home: Treadmills That Fit Your Lifestyle
UPDATED, September 8, 2021
You may love hitting up your local gym to get in a workout. Something about the sense of community, the quality of equipment, the heart-pumping classes offered and an electric atmosphere keeps you hooked and coming back. Even with all of this awaiting you at your favorite athletic hangout, have you found yourself yearning for the accessibility and convenience of your own personal treadmill at home?
As you might be tempted to write this daydream off as an unnecessary expense, but your wish for home equipment certainly isn't a flippant one you should have to ignore. In fact, there are many benefits to equipping your home with a gym-quality or commercial treadmill so your favorite workouts don't have to be limited to only gym visits.
Read on to learn more about why you should invest in a home treadmill and how it can benefit your workouts at the gym and at home, including some of our top treadmill recommendations deserving of your consideration.
Investing In A Home Treadmill
Even if you've been a loyal patron at your gym for years, there are plenty of reasons why outfitting your home with a quality treadmill is a top-notch idea. Sometimes life situations change suddenly, and maybe you've found fitting in time to regularly stop at the gym isn't always possible or convenient. Even if you want to have the same gym-quality treadmill at home like the one you use at the gym, you're not having to sacrifice the intensity of your workouts just because you can't make it to your local gym for a few days.
Having your very own home treadmill just down the hall means gym-quality workouts are available to you on your own schedule. Need to fit in a super-early or incredibly late-night run? No problem! Your own treadmill is always conveniently open and ready to greet you for a sweat session.
Sometimes Mother Nature doesn't cooperate with whatever plans you have on deck. If the weather throws you a curveball and makes driving to your local gym a challenge, or leaves sidewalks and trails unsafe for running or walking, your trusty home treadmill provides a safe workout space.
Ask Yourself These Questions Before Buying A Treadmill
There is a perfect piece of equipment out there to meet your needs; however, not every model will be your personal unicorn. It will be easier to determine if a Freemotion treadmill or NordicTrack treadmill is your dream machine once you've asked yourself the right questions. Some things to consider before committing to a home treadmill include:

What is your budget?
How much home space do you have for a treadmill?
What fitness goals do you hope to achieve?
What treadmill features are important to you?
Bringing The Gym Home: 2021 Equipment And Product Recommendations
Choosing a home treadmill you'll love and use for years to come can certainly be an overwhelming endeavor. Luckily, through pinpointing what you want out of personal gym equipment along with these stellar recommendations, you can head into this journey as a well-informed treadmill consumer.
Choosing A Commercial Quality Treadmill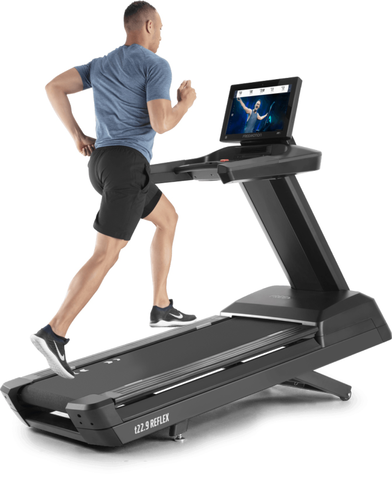 This Freemotion model is one of the most widely chosen for use in commercial gyms, and for good reason. It's incredibly reliable and sturdy enough for repeated daily use in a busy gym setting. The machine is easy to use and features a display providing you with all the pertinent information you need at your fingertips. Enjoy immediate response thanks to 1-STEP™ Controls that allow the treadmill to quickly respond to commands without the need for annoying multiple button pushes.
If you're recovering from an injury, prone to experiencing injuries, or just require a bit more cushioning upon impact while running or walking, this is the treadmill for you. The treadmill's unique and proprietary REFLEX™ Cushioning design helps you run stronger for longer and is much easier on knees, ankles, and hips. If you've experienced how amazing it feels to run on one of these treadmills at your local gym, you'll love enjoying the same experience from the comfort of your own home. The t22.9 REFLEX™ is a perennial favorite of both gym owners and patrons alike and is often among the most recommended treadmills.
Taking Your Home Workout To the Next Level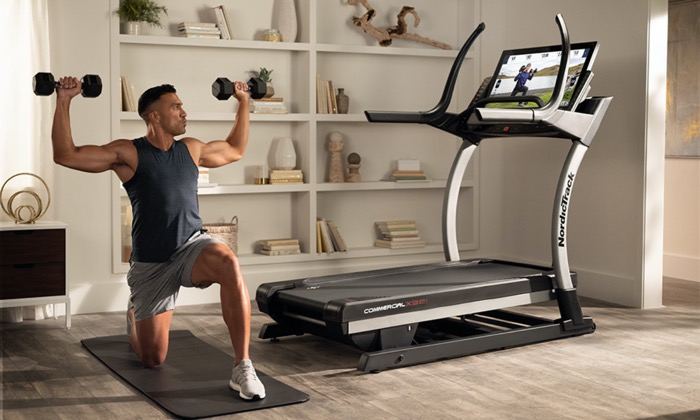 Do you love a good workout with a side of extra inspiration and motivation? This impressive treadmill from NordicTrack is outfitted with a brilliant 32-inch interactive HD touchscreen, and when paired with the iFIT® interactive personal training experience, you'll enjoy at-home workouts that go above and beyond those found on most treadmills at the gym. When you utilize iFIT on the X32i, you get both the motivation of a personal trainer and the quality and durability of a commercial treadmill* even when it's not possible to travel to the gym.
Built for performance, the deck of the X32i features Reflex Cushioning™, which cushions and absorbs impact to protect your joints during your workout and beyond. Equipped to incline up to 40%, this is the model for you if you like to mix it up and push your limits, especially with hill training. The X32i treadmill features many fresh updates and additions for 2021, including:

An updated 32-inch touchscreen display
Improved performance of HD graphics and additional processor cooling
Enhancements to the automatic trainer controls
Android® 9 OS
Quiet Drive incline technology
Bluetooth® connectivity

Please note that NordicTrack treadmills have all the amazing bells and whistles of a gym-quality commercial treadmill, but are for residential use only.

Raising The Bar On Your Home Gym Experience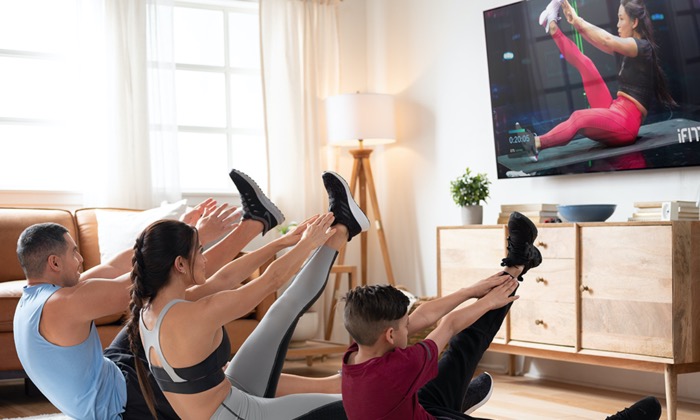 It might be hard to beat the motivation and camaraderie of working with a personal trainer or following along with your favorite instructor at your local gym; however, using iFIT from the comfort of your own home when making it to your favorite class or meeting with a trainer just isn't an option comes in at a close second. No matter your workout of choice, you're likely to find it with iFIT. The iFIT experience offers up the likes of running workouts, strength training and even yoga workouts for when you need to recharge, stretch it out, or just find some balance. With iFIT, you aren't limited to working out only at home on your treadmill. Take your workouts everywhere you go by downloading the iFIT TV app and access your workouts from anywhere, anytime. Check it out for yourself with your own 30-Day iFIT trial available now!
Conclusion
Whether you decide a Freemotion commercial treadmill or a NordicTrack treadmill* is the best choice for your own home, there's no doubt you'll breathe a sigh of relief knowing your best workouts need not always be relegated to the gym. Begin considering what you need out of a treadmill and you'll be on your way to a healthier, happier, and stronger you.
DISCLAIMER: This article is not intended to replace the advice of a medical professional. The above information should not be used to diagnose, treat, or prevent any disease or medical condition. Please consult your doctor before making any changes to your diet, sleep methods, daily activity, or fitness routine. Treadmill.com assumes no responsibility for any personal injury or damage sustained by any recommendations, opinions, or advice given in this article. Always follow the safety precautions included in the owner's manual of your fitness equipment. *NordicTrack commercial series treadmills are for residential use only. Commercial use of these machines may void the warranty.
IFIT DISCLAIMER: iFIT requires an internet connection and Wi-Fi to function. You will be required to provide your credit card information upon sign-up for iFIT. Your Commitment Period may be month-to-month or twelve (12), eighteen (18), or thirty-six (36) months, depending on your agreement. Terms of Service shall apply to your iFIT use and subscription during your Commitment Period and any subsequent Renewal Term. Unless you cancel your account or notify us at least twenty four (24) hours prior to the expiration of your commitment period that you do not wish to renew your subscription, your iFIT subscription will automatically renew for an additional month, one (1) year, or two (2) year period, as applicable, for the same duration as your initial commitment period ("The Renewal Term"), and you authorize us to bill the then-applicable membership fee and any taxes to the payment method we have on record for you.
Sources:
https://www.proform.com/blog/benefits-of-having-a-home-gym/
https://treadmill.com/treadmill-buying-guide/
https://www.nordictrack.com/learn/home-gym-ideas-small-space/
https://freemotionfitness.com/machine-for-home-gym/t22-9-reflex-treadmill/
https://treadmill.com/best-treadmill-for-running-at-home/
https://www.nordictrack.com/incline-trainers/commercial-x32i
https://treadmill.com/ifit-support-how-to-get-started-with-ifit/
https://www.nordictrack.com/learn/workouts-offered-on-ifit/
https://www.arthritis.org/health-wellness/healthy-living/physical-activity/walking/how-to-choose-and-use-a-treadmill
https://www.nordictrack.com/learn/ifit-tv-app/
https://freemotionfitness.com/machines-for-home-gym/treadmills/