iFIT Support: Performing A Factory Reset On Your Treadmill
A treadmill that is powered by iFIT® has sophisticated software and hardware that was created to provide each user an innovative fitness experience for every single workout you do. But without proper maintenance, your treadmill won't perform the way it should.
We're addressing the process of performing a factory reset on your treadmill below. That way, you can continue to take advantage of everything that your treadmill has to offer and continue on your path to accomplish your health and fitness goals.
Performing A Factory Reset On A Treadmill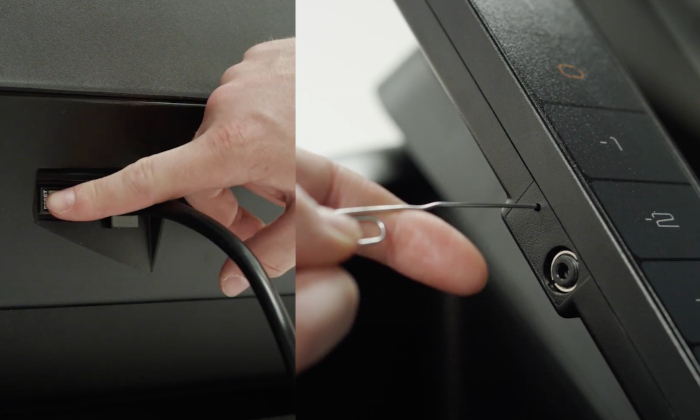 If your Wi-Fi connection is poor or if your built-in console has stopped responding after you have reset your router, a factory reset might be the solution.
A factory reset, however, only works on the latest consoles. To see if your treadmill is compatible with a factory reset, look at your settings and verify your firmware version. Certain firmware versions available for a factory reset begin with 7.1. You can also see if your machine is compatible by looking at your console. If your machine has a USB or an HDMI port, it is not compatible with this process.
We recommend that you conduct a factory reset with two people. Make sure that your Wi-Fi is turned on and that you have a paperclip on hand.
Begin by locating the power switch on your treadmill and flipping the switch to the off position. To locate the power switch, check your owner's manual.
Next, locate the pinhole, which will most likely be found on one of the sides or on the back of your treadmill's console. If you have difficulty finding it, please consult your owner's manual.
Insert the paper clip into the pinhole. As you insert the paper clip, press and hold it down. As you hold the paper clip, have the second person flip the power switch back on. Once the screen lights up, you may remove the paper clip.
You will see the iFIT logo along with "system recovery: please wait…" highlighted in blue. This is the boot-up screen. If the blue text doesn't appear, please repeat the factory reset process. Please note, if the boot-up screen and blue text reads, "system recovery: please wait…", it may take up to 30 minutes for your treadmill to begin the onboarding process. If the boot-up screen remains over 30 minutes, the reset process will need to be attempted again.
If the factory reset has worked, you will be prompted to reconnect to your Wi-Fi, select your unit of measure, and choose your time zone. Once you're connected to Wi-Fi, your treadmill will automatically update to the most current software, which could take a few minutes.
Once your iFIT logo screen has loaded, please log in using your iFIT membership username and password. You will now be able to explore a brand new workout experience on your treadmill.
Factory Reset Video Instructions
For a visual explanation of performing a factory reset on your treadmill, you can refer to the video below.
And if you need additional iFIT customer support, join a chat session with an iFIT team member or contact us by email or telephone. 
Additional iFIT Support 
For more information on downloading your iFIT app on your smart device, creating your iFIT profile, or even using your iFIT membership on different treadmills, see our iFIT Support: How To Get Started With iFIT.
DISCLAIMER: This article is not intended to replace the advice of a medical professional. The above information should not be used to diagnose, treat, or prevent any disease or medical condition. Please consult your doctor before making any changes to your diet, sleep methods, daily activity, or fitness routine. Treadmill.com assumes no responsibility for any personal injury or damage sustained by any recommendations, opinions, or advice given in this article. Always follow the safety precautions included in the owner's manual of your fitness equipment.
IFIT DISCLAIMER: iFIT requires an internet connection and Wi-Fi to function. You will be required to provide your credit card information upon sign-up for iFIT. Your Commitment Period may be month-to-month or twelve (12), eighteen (18), or thirty-six (36) months, depending on your agreement. Terms of Service shall apply to your iFIT use and subscription during your Commitment Period and any subsequent Renewal Term. Unless you cancel your account or notify us at least twenty four (24) hours prior to the expiration of your commitment period that you do not wish to renew your subscription, your iFIT subscription will automatically renew for an additional month, one (1) year, or two (2) year period, as applicable, for the same duration as your initial commitment period ("The Renewal Term"), and you authorize us to bill the then-applicable membership fee and any taxes to the payment method we have on record for you. 
Sources:
https://treadmill.com/best-treadmill-for-running-at-home/
https://treadmill.com/ifit-support-how-to-get-started-with-ifit/
https://treadmill.com/treadmill-maintenance-guidelines/
https://www.youtube.com/watch?v=rKjiIkPctM4
https://ifit.zendesk.com/hc/en-us