The Best Folding Treadmill For Home Use
Choosing to go on a health and wellness journey could be the single most important decision that you make this year. With some people having to work at a desk every day, sedentary lifestyles have become obstacles to living healthily, especially when time and space are limited. A folding treadmill at home could be your solution!
Becoming active doesn't mean that you have to take hours out of your day to commute to and from the gym. Even gym regulars are looking for a better home workout system because of the convenience and enticing budget accommodation. If you are ready to take the plunge into the health and fitness lifestyle, odds are you'll find yourself digging through an endless array of equipment options.
If you find a treadmill for sale, how do you know if it's the best option for you? While at-home exercise equipment is very popular these days, you may not think compact or versatile when you think treadmills. Newer, folding treadmills, however, meet both standards. Getting into the best shape of your life doesn't have to come with compromises or inconveniences. Let's take a closer look.
What Is The Best Folding Treadmill For Home Use
Most people don't have an empty room dedicated to workout on a treadmill. For many people, the best-case scenario would be to have enough room for a couple of pieces of equipment stored in the corner of the home office. Treadmills can be large pieces of equipment, depending on the one you choose. If you live in an apartment or small home, it's easy to dismiss the idea of a treadmill entirely.
But luckily, folding treadmills are good for space-saving and becoming even more popular for those with limited space. Store it in an area in your living room or in a spare room. Take it out once a day and return it without losing living room or office space. Every treadmill comes with its own features and advantages.
But before investing in a treadmill, how do you know which is best? We've made it easy and compiled our personal folding treadmill favorites. Check out our folding treadmill reviews below to help you decide for yourself.
ProForm Carbon T7 Treadmill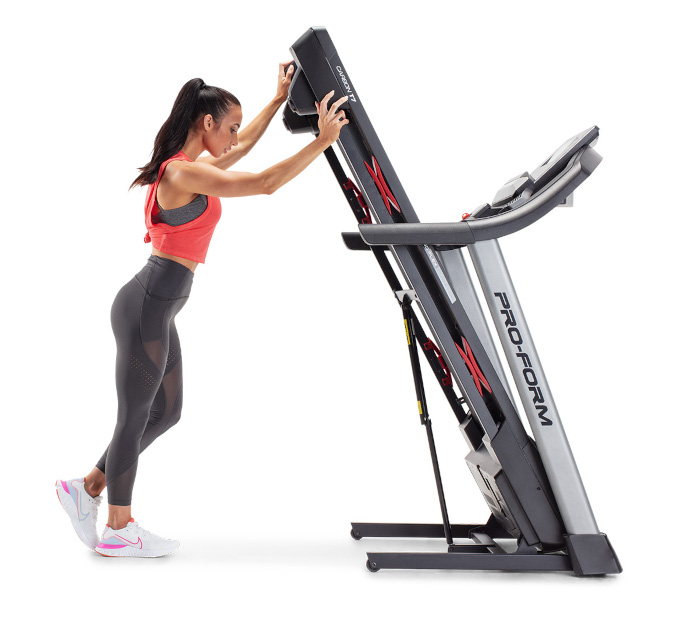 The Carbon T7 is our best overall folding treadmill pick because it's overall space-saving features also include the integrated interactive training with iFIT® that has features that aid beginners and athletes alike without taking much space in the home. When you purchase the Carbon T7, you receive most of the same features of a non-folding treadmill, including a one-year iFIT family membership.
As the Carbon T7 was designed specifically to be a folding treadmill for small spaces, you can easily fold and lock it into place. The motor is a 2.6 CHP* Mach Z and made with high-quality components in order to withstand heavy use while also providing a smooth and quiet in-home experience. Even during the toughest workouts, the motor stays cool and retains a high level of inertia. The Carbon T7 has a well-cushioned deck thanks to it's ISO Flex™ Cushioning without compromising your stride with the treadmill belt of 20" x 55".
Other Carbon T7 features include:
7" Smart HD Touchscreen
0 – 10 MPH QuickSpeed® Button Control
0 – 10% Grade QuickSpeed® Button Control
1.9" Precision-Balanced Rollers
SpaceSaver® Design with EasyLift™ Assist
The Carbon T7 has many convenient features outside of its impressive folding ability as well. Not only do you have the opportunity to workout with your very own personal trainer without leaving home, you can also enjoy a hands-free experience as your iFIT trainer controls your treadmill speed and incline virtually. And with it's audio auxiliary port, you can plug in and pump up the volume with its dual 2" speakers without disturbing anyone else around you.
NordicTrack Commercial 1750 Treadmill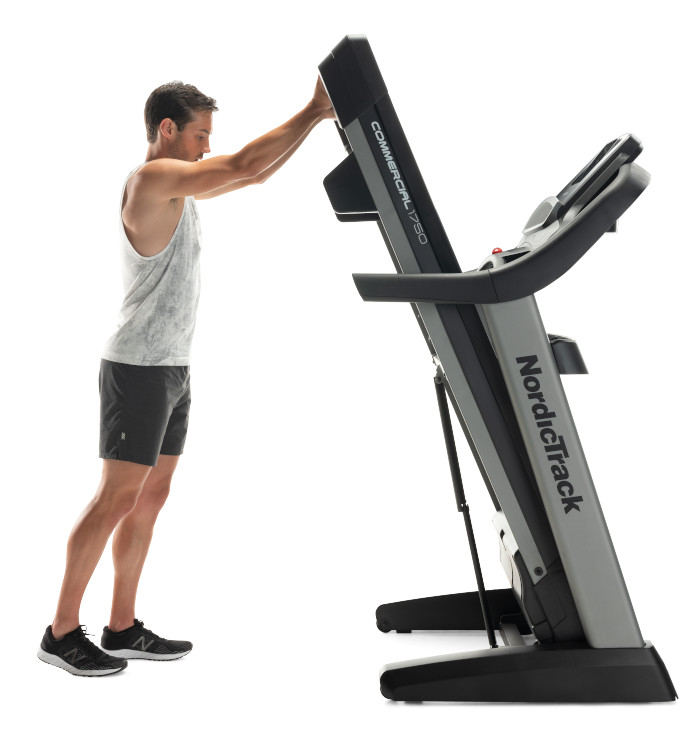 The Commercial 1750 is our best folding treadmill with incline. It's SpaceSaver® Design with EasyLift™ Assist makes for easy storage while incorporating its incredible incline range of -3% to 15%––making sure each workout you experience on the Commercial 1750 is challenging and beneficial. Once you've finished your workout, the treadmill has 2.5" Precision and Balanced Non-Flex Rollers which make for easy movement for wherever you want to place it.
We can't forget Mashable®'s feature of the Commercial 1750 as naming it, "Best For Creative Workouts".
"Consistently highly-ranked by professional reviewers and standard users alike, the iFIT compatibility and high-quality deck brings users a ton of options with comfort built in, powered by a durable motor."

– Mashable®
Can't say we're surprised to see the treadmill gain that title as you consider its incline feature along with the respectable, included virtual training program, iFIT. With the Commercial 1750's 10" Smart HD Touchscreen, each workout feels as if you were there in person. Explore studio classes and global workouts with your iFIT membership on the treadmill, then easily fold up the deck and store away until you're ready to explore again. Easy as that!
Other Commercial 1750 features include:
22" x 60" Commercial Tread Belt
81.25" L x 39.25" W x 62.75" H Footprint
HD Graphics Performance with added Processor Cooling (improved for 2021)
Bluetooth® Headphone Connectivity (new for 2021)
Dual 2.4 GHz & 5 GHz Wi-Fi® Connectivity (faster for 2021)
Quiet Drive Incline Tech (new for 2021)
1-Year iFIT Membership Included
Build Your Body Without Inconvenience
It's common to make workout excuses about not "being able to workout". It's easy to say that it's too inconvenient, you don't have the time, you have kids or spouses at home that may be bothered by your workout, or you don't have enough space at home for equipment. When you live in an apartment, your treadmill options may be even more limited.
Let's break through those excuses and give light to your solutions, because once you do, you've got nothing holding you back from achieving the best version of yourself.
Noise
Not all treadmills are created equal. However, there are some treadmills that were built to avoid common noise issues. The Commercial 1750, for instance, has incorporated their new Quiet Drive Incline Tech for 2021 that provides a smoother and quieter workout experience with technology that realistically mirrors the terrain you're running on. Including the Runners Flex™ cushioning feature means less impact on the users joints while also being less stressful for bystanders' ears.
As we mentioned above, Bluetooth® Headphone Connectivity makes all the difference for everyone in the home. A user can hear more clearly during their workout and become totally enthralled in their treadmill entertainment while their loved ones close by can go unbothered.
Space
Working out at home has many benefits. You control when and how you work out, you avoid the gym crowds, and you never have to worry about commuting every day. If you have limited space, transforming your home into a gym might not seem attainable––until now!
Treadmills, such as the Carbon T7 and the Commercial 1750, use a SpaceSaver® Design with EasyLift™ Assist, so you can simply fold up the deck and move it out of the way after each workout. And as an added bonus, they have a built-in powerful shock that helps you to lift the deck with an easy push.
Break Up The Monotony With A Folding Treadmill And Innovative Features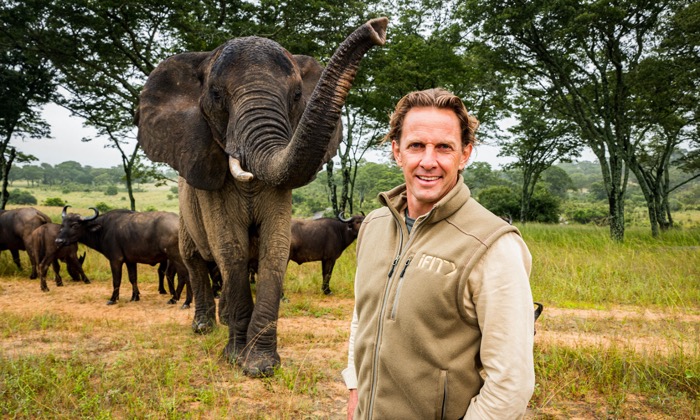 Forget what you used to think about home treadmills. They've been reinvented time and time again to ensure a fun, easy, and convenient way to work out at home. Even including features that make all the difference in your workouts.
The latest treadmills are game-changers! You don't have to stare at the wall, completely disengage while working out, and counting the seconds until it's over. Our treadmill picks have special features that help you combat exercise boredom.
Workout Variety
Day after day, the same workout routine can grow old. You may stop challenging yourself when you don't know how to switch up your workouts. However, adding some variety in your activity prevents your body from plateauing, and the help of iFIT can do just that.
The benefit of having an iFIT membership is the access to a huge variety of workouts that are held in a studio setting, as well as different global/destination settings. Whether you feel like doing interval training, yoga, then strength training all in one week, then traveling to Thailand and Bora Bora––you have pre-recorded workouts that are ready for you to do no matter the day or time. Work out on your time and your time only!
iFIT Personal Trainers
If you aren't a personal trainer yourself, it can be difficult to come up with a challenging routine day after day. And for those who don't know any better, find themselves doing the same workout every day for the same amount of time. That's when a personal trainer should be considered a rather important investment.
iFIT personal trainers, in particular, have been carefully hand-selected based upon their training experience and accomplishments. That is why you can comfortably trust the personal trainers on iFIT to provide you with a beneficial workout. They personally create workouts to target specific muscle groups and workout styles, so you can easily choose (and even schedule out) workouts for upcoming weeks, even months if you want to.
Your iFIT personal trainer is there to guide, motivate, and push you through every workout; to the point where they're even virtually adjusting your treadmill to match the terrain of their workout. Though to take advantage of that feature, you have to be using a iFIT-enabled treadmill.
Conclusion
Fitness begins and ends with your choices. If you're limited on space, a folding treadmill for home use can help you achieve your goals without compromising your time and available area. Start taking advantage of a folding treadmill for its incredible storage ability and incomparable features that'll make daily exercise at home something you can actually look forward to!
For more information about our top folding treadmills for home use, check out the ProForm Carbon T7 and the NordicTrack Commercial 1750 . You won't be disappointed!
DISCLAIMER: This article is not intended to replace the advice of a medical professional. The above information should not be used to diagnose, treat, or prevent any disease or medical condition. Please consult your doctor before making any changes to your diet, sleep methods, daily activity, or fitness routine. Treadmill.com assumes no responsibility for any personal injury or damage sustained by any recommendations, opinions, or advice given in this article. Always follow the safety precautions included in the owner's manual of your fitness equipment. *Continuous Horsepower ("CHP") is a term used in the treadmill industry for consumer comparison purposes. The CHP rating is measured in laboratory testing using a dynamometer, which measures the mechanical power of the motor. The CHP rating does not denote the operational horsepower of the treadmill in ordinary household use. In ordinary household use, the motor does not operate at the horsepower shown.
IFIT DISCLAIMER: iFIT requires an internet connection and Wi-Fi to function. You will be required to provide your credit card information upon sign-up for iFIT. Your Commitment Period may be month-to-month or twelve (12), eighteen (18), or thirty-six (36) months, depending on your agreement. Terms of Service shall apply to your iFIT use and subscription during your Commitment Period and any subsequent Renewal Term. Unless you cancel your account or notify us at least twenty four (24) hours prior to the expiration of your commitment period that you do not wish to renew your subscription, your iFIT subscription will automatically renew for an additional month, one (1) year, or two (2) year period, as applicable, for the same duration as your initial commitment period ("The Renewal Term"), and you authorize us to bill the then-applicable membership fee and any taxes to the payment method we have on record for you. 
Sources:
https://www.proform.com/treadmills/carbon-t7
https://www.proform.com/blog/beginners-guide-to-ifit/
https://www.proform.com/blog/womens-history-month-ashley-paulson/
https://www.nordictrack.com/treadmills/commercial-1750-treadmill
https://www.nordictrack.com/learn/mashable-praises-the-commercial-1750/
https://www.nordictrack.com/learn/bluetooth-headphones-connectivity-to-machine/
https://www.proform.com/blog/benefits-of-having-a-home-gym/
https://onemedical.com/blog/healthy-living/7-reasons-to-switch-up-your-workout
https://www.nordictrack.com/learn/ifit-membership-frequently-asked-questions/