NordicTrack Commercial 2950: Best Treadmill For Automatic Speed And Incline Adjustments
UPDATED, September 8, 2021
When it comes to the best treadmill for automatic speed and incline adjustments, we'd have to agree with PC Mag® as naming the NordicTrack Commercial 2950 Treadmill the winner. This treadmill continues to catch our attention with its mesmerizing sophistication and interactive capabilities that provides the best iFIT® experience possible to each and every user.
Not to mention its appearance on the list for Best Smart Home Gym Equipment for 2020 as their Favorite Smart Treadmill. The awards continue to rise for the NordicTrack Commercial 2950, as well as our fascination for it. 
Award-Winning Features: NordicTrack Commercial 2950 Treadmill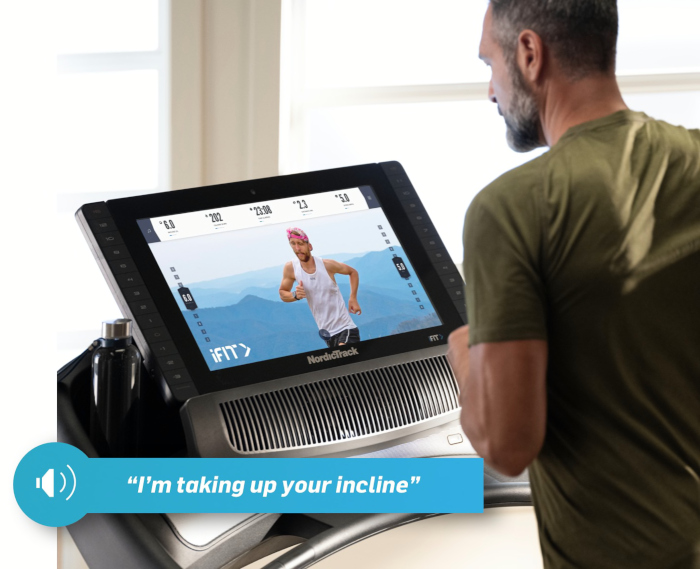 The whole NordicTrack treadmill line is something to admire, especially when they're some of the best treadmills to experience iFIT workouts.
With the Commercial 2950, there's nothing holding you back. The incredible engineering of this treadmill partnered with the unmatched interactive performance a user explores with iFIT is something out of the ordinary.
"…it's one of the most sophisticated treadmills on the market, with a vast iFIT streaming workout library and the ability to automatically adjust your incline and speed." – Angela Moscaritolo, PC Mag®
As our world is advancing so quickly with technology on just about everything, why would our home treadmill be any different? And NordicTrack is setting the standard for it all. As automatic speed and incline adjustments are so easily accessible, it's come as no surprise that the Commercial 2950 is a fan favorite.
No more fiddling with your treadmill's speed while you run or pausing your workout to adjust your incline; your treadmill does it on its own with the guidance of your virtual iFIT trainer. Who would've thought that could ever be possible?
We can't forget to mention our expansive world of iFIT workouts that are included for 30 days with your purchase of the Commercial 2950. Not familiar with our iFIT program? Well, answer us this:
Have you ever wanted to walk the streets in Europe? Now you can!
Dreamt about running the beaches in Thailand? Check that off your bucket list!
Ever wanted to escape to Turks and Caicos on your own? Well, our description won't do it justice. This is just something you've got to see it to believe it!
Sign up for your 30-Day iFIT trial and start checking off your favorite countries, starting with the Turks & Caicos workout below:
Now the best part about it all, it won't break your bank to add this treadmill to your home gym! Even with all the fancy features and inventive functionality of this treadmill, NordicTrack offers special financing––giving the customer the power and assistance to choose how they want to purchase. Never has it been easier to build the home gym with the best treadmill you've always wanted.
"NordicTrack, in particular, caters to different budgets, offering machines with a range of screen sizes." – Angela Moscaritolo, PC Mag®
Conclusion
As you can see, the NordicTrack Commercial 2950 Treadmill really speaks for itself. Additionally, you have PC Mag® to vouch for it as the best treadmill for automatic speed, incline adjustments, and we're here to second that!
For more information about this treadmill, visit NordicTrack.com and see what other customers are asking: Frequently Asked Questions: Commercial 2950 Treadmill.
DISCLAIMER: This article is not intended to replace the advice of a medical professional. The above information should not be used to diagnose, treat, or prevent any disease or medical condition. Please consult your doctor before making any changes to your diet, sleep methods, daily activity, or fitness routine. Treadmill.com assumes no responsibility for any personal injury or damage sustained by any recommendations, opinions, or advice given in this article. Always follow the safety precautions included in the owner's manual of your fitness equipment.
IFIT DISCLAIMER: iFIT requires an internet connection and Wi-Fi to function. You will be required to provide your credit card information upon sign-up for iFIT. Your Commitment Period may be month-to-month or twelve (12), eighteen (18), or thirty-six (36) months, depending on your agreement. Terms of Service shall apply to your iFIT use and subscription during your Commitment Period and any subsequent Renewal Term. Unless you cancel your account or notify us at least twenty four (24) hours prior to the expiration of your commitment period that you do not wish to renew your subscription, your iFIT subscription will automatically renew for an additional month, one (1) year, or two (2) year period, as applicable, for the same duration as your initial commitment period ("The Renewal Term"), and you authorize us to bill the then-applicable membership fee and any taxes to the payment method we have on record for you.
Sources:
https://www.pcmag.com/reviews/nordictrack-commercial-2950-treadmill
https://www.nordictrack.com/treadmills/commercial-2950-treadmill
https://treadmill.com/ifit-support-how-to-get-started-with-ifit/
https://www.pcmag.com/picks/the-best-smart-home-gym-equipment
https://www.nordictrack.com/treadmills
https://www.youtube.com/watch?v=ZkBbjFvG2Lg
https://www.nordictrack.com/learn/commercial-2950-treadmill-frequently-asked-questions/