Home Treadmill Maintenance And Care Guidelines
UPDATED January 18, 2022
Having a treadmill in the convenience of your own home can be a great luxury. No longer do you need to venture out to your local gym to get a cardio workout in for the day. Furthermore, having your own treadmill can negate many of the "typical" excuses you might have otherwise used to get out of your daily exercise. 
There's a lot of wear and tear that your treadmill is subjected to with regular use, so you'll want to ensure that your treadmill is properly maintained. 
Treadmill Maintenance Importance
Treadmills are large and complex cardio machines, so it's not unheard of to spend hundreds, or even thousands, of dollars on one to set up in your own home. With that cost in mind, it only makes sense that you want to prolong the life of your treadmill and avoid any costly repairs. Properly caring for your treadmill with regular maintenance is the best way to go about this.
By maintaining your treadmill, you'll reduce the chances of a machine break-down. And because a poorly maintained treadmill can be dangerous to use, you'll also reduce your chances of being injured while using your treadmill. Before you attempt to maintain your treadmill, however, be sure to read and follow the instructions provided in your user's manual.  
Maintaining Your Home Treadmill
A little routine maintenance goes a long way in preventing issues with your machine.
Make sure the safety clip included with your treadmill is properly attached and in good working condition. You should be using this clip every time you walk or run on your treadmill as it allows the machine to come to an emergency stop if needed. You can contact your treadmill manufacturer for a replacement clip if this important safety feature isn't working.
Additionally, you should unplug your treadmill after each use to avoid a potential tripping hazard, as well as avoid an increased exposure of the treadmill to any variations in your electricity service.
Cleaning Your Machine
After each use, be sure to wipe down the console of your treadmill with a cleanser specifically designed for gym equipment or even just a damp water cloth. Otherwise, you could end up with bacteria and other gross build-up on your machine.
Before cleaning your machine, however, consult the instructions provided for this in your user's manual. For example, prior to cleaning your machine, press the power switch into the off position and unplug your machine. Also, do not spray liquids directly onto the treadmill. To avoid damage to the console, keep liquids away from it.
Every couple of weeks, it's also a good idea to vacuum around your treadmill deck––the part that you walk/run on––as well as dusting the deck itself. Otherwise, dust and debris can eventually make its way into small crevices and could eventually reach the motor of the treadmill, causing expensive damage.
Treadmill Walking Belt
Over time, it is likely that the walking belt on your treadmill will fall out of alignment. You'll be able to tell this has happened if the belt is noticeably skewed or positioned off-center from the deck itself. Unfortunately, if your belt is out of alignment, you should stop using your machine until this can be fixed. Otherwise, you could end up causing more damage to your treadmill or even yourself.
Fortunately, adjusting alignment on your walking belt should be pretty simple. In most cases, all you need to do is to adjust a couple of bolts on either side of the machine, making small adjustments to the belt's positioning as you go. These bolts can also be tightened to increase tension on the belt if it becomes too loose. Be sure, however, to follow the instructions provided in your user's manual in order to avoid doing any damage to your machine. For example, never use power tools to try and maintain your equipment.
If your belt has any wear and tear and needs to be replaced, you should contact the treadmill manufacturer directly.
Treadmill's Screws
One of the most basic, yet important, maintenance steps you can take with your treadmill is to see if you observe any loose screws before each use of the machine. If you see any loose screws, you can try and tighten them. If you need to replace any screws, be sure to contact the manufacturer. Loose screws, and using the wrong screws, could cause damage to your machine. Again, never use power tools to tighten any loose screws.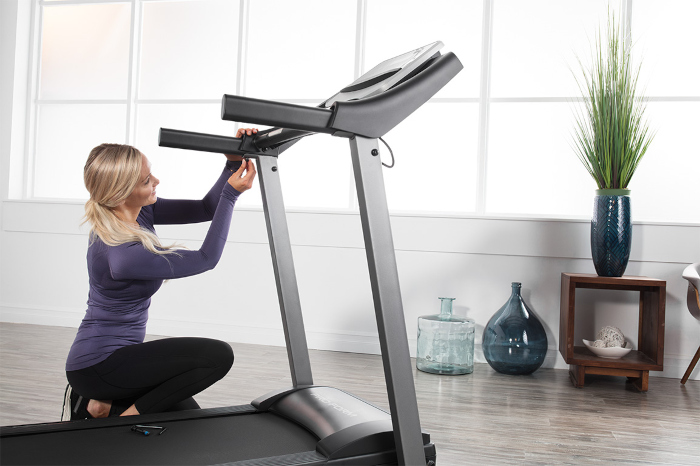 Consider Making A Maintenance Checklist
It may seem like there are a lot of maintenance tasks to remember, so it may be useful for you to follow the checklist below so you can remember which maintenance tasks need done and when.
DAILY
Each day, or before each use of the machine, you should:
See if you observe any loose screws
Clean console and grips with a gentle cleaner

WEEKLY/MONTHLY
Check belt tension and alignment
Check power cord for damage

QUARTERLY
Clean/dust/vacuum around the deck
Check belt for wear and tear
Conclusion
Understanding the best way to maintain your treadmill will keep it in safe operating condition and will save you money on unnecessary repairs down the road. Be sure to follow these treadmill maintenance and care guidelines, as well as the user's manual that came with your machine, to keep it in tip-top shape for years to come.
DISCLAIMER: This article is not intended to replace the advice of a medical professional. The above information should not be used to diagnose, treat, or prevent any disease or medical condition. Please consult your doctor before making any changes to your diet, sleep methods, daily activity, or fitness routine. Treadmill.com assumes no responsibility for any personal injury or damage sustained by any recommendations, opinions, or advice given in this article. Always follow the safety precautions included in the owner's manual of your fitness equipment.
IFIT DISCLAIMER: iFIT requires an internet connection and Wi-Fi to function. You will be required to provide your credit card information upon sign-up for iFIT. Your Commitment Period may be month-to-month or twelve (12), eighteen (18), or thirty-six (36) months, depending on your agreement. Terms shall apply to your iFIT use and subscription during your Commitment Period and any subsequent Renewal Term. Unless you cancel your account or notify us at least twenty four (24) hours prior to the expiration of your commitment period that you do not wish to renew your subscription, your iFIT subscription will automatically renew for an additional month, one (1) year, or two (2) year period, as applicable, for the same duration as your initial commitment period ("The Renewal Term"), and you authorize us to bill the then-applicable membership fee and any taxes to the payment method we have on record for you.
Sources:
https://treadmill.com/treadmill-buyers-guide/
https://www.proform.com/blog/benefits-of-having-a-home-gym/
https://www.youtube.com/watch?time_continue=90&v=kgUpzwGm03c