Our Best Treadmills Under $1,100
UPDATED January 18, 2022
As treadmills make for an easy tool to fit in daily exercise, weather and time do not. As the seasons change and personal obligations pull you in all directions, it's not always easy to beat the weather and squeeze in the time to make it to your local gym to work out on the treadmill. That's when a home treadmill can be your new best friend, bringing all the accessibility and convenience straight into your home. However, some treadmill price tags may create another obstacle and prevent you from taking that leap. But fortunately, you've got Treadmill.com with our Best Treadmills Under $1,100. 
Below we're sharing our favorite treadmills that won't break the bank while still bringing you all the features you want in a home treadmill. We're also sharing ways to compare treadmills yourself, so you know what factors to look for.
Our Best Treadmills Under $1,100
ProForm Carbon T7 Treadmill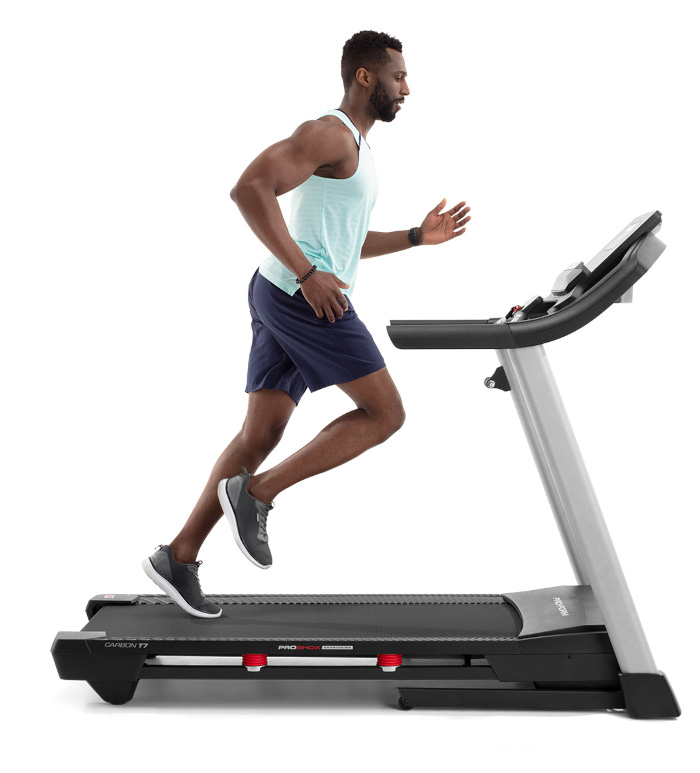 The ProForm Carbon T7 Treadmill may be the best inexpensive treadmill for avid walkers and serious runners alike. Its speed range tops out at 10mph, which allows serious runners to adopt a respectable pace with bursts of speed throughout their workouts with a simple touch of a button. It also has an impressive incline range of 0% up to 10% to intensify and make workouts more challenging. These kinds of features typically come on a higher-range treadmill, but ProForm designed the Carbon T7 to encompass those highly-desired qualities at a lower price point.
Users are also able to access a large amount of trainer-led workouts thanks to its iFIT capability. Workouts range from HIIT and speed intervals on the Carbon T7 to even taking you off the treadmill for some weight training and bodyweight workouts. Furthermore, iFIT works along with your treadmill to allow a seamless training experience with its automatic interactive technology that gives your trainer the ability to adjust your treadmill to match the exact workout you're doing at that moment. Never have treadmill workouts been more life-like than that!
For a reasonable price, you get a powerful machine that keeps up with your training schedule and your pocketbook. Included is an in-home efficiency booster, which means you can run every day without using excessive amounts of electricity. And to make it even more affordable, ProForm has a program called ProForm+ which can further assist you in creating a payment plan and schedule. Getting free equipment for only a 3-year iFIT Family Membership sounds more than reasonable to us. See ProForm's ProForm+ for more information.
NordicTrack EXP 7i Treadmill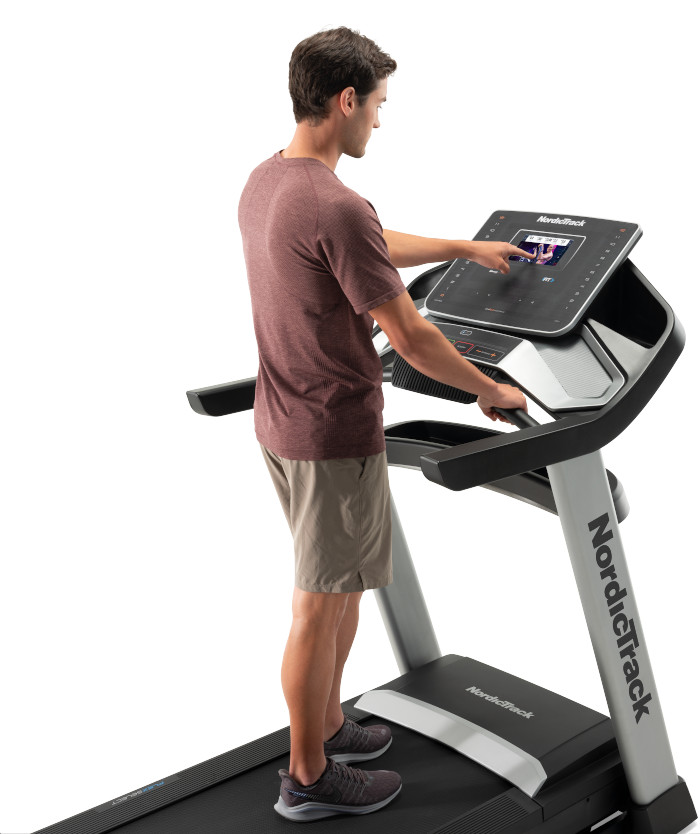 NordicTrack has been a leader in the home fitness equipment industry for many, many years, so they know more than a thing or two about treadmills. NordicTrack's inventory consists of a large range of treadmills that can fit a user with even the smallest budget, which is why NordicTrack has created the NordicTrack EXP 7i Treadmill. To accommodate users that are looking for a challenging and entertaining workout, the EXP 7i features a 7 inch HD Smart Touchscreen to deliver the iFIT experience in the most captivating way possible. It includes automatic trainer control where your iFIT trainer will automatically adjust your treadmill to match the terrain of your chosen workout as you're actively working out. 
Additional features include FlexSelect™ cushioning, smart-response drive system, Bluetooth® headphone connectivity, two 2" digitally amplified speakers, and OneTouch® controls.
Although this treadmill is more budget-friendly, it has similar features of the most expensive treadmills on the market due to the incredible incline range of 0% – 12%. This feature makes NordicTrack stand out from the rest as many treadmills do not offer anything close to this incline, if at all. NordicTrack has treadmills on all ends of the spectrum while delivering features that don't discriminate because of their price point.
On top of all that, you even get 1-year of iFIT with your purchase of the NordicTrack EXP 7i Treadmill. If the treadmill features weren't enough, this surely makes the decision-making process easier!
Not to mention NordicTrack's great financing options that make it easier than ever to invest in a home treadmill.
ProForm City L6 Treadmill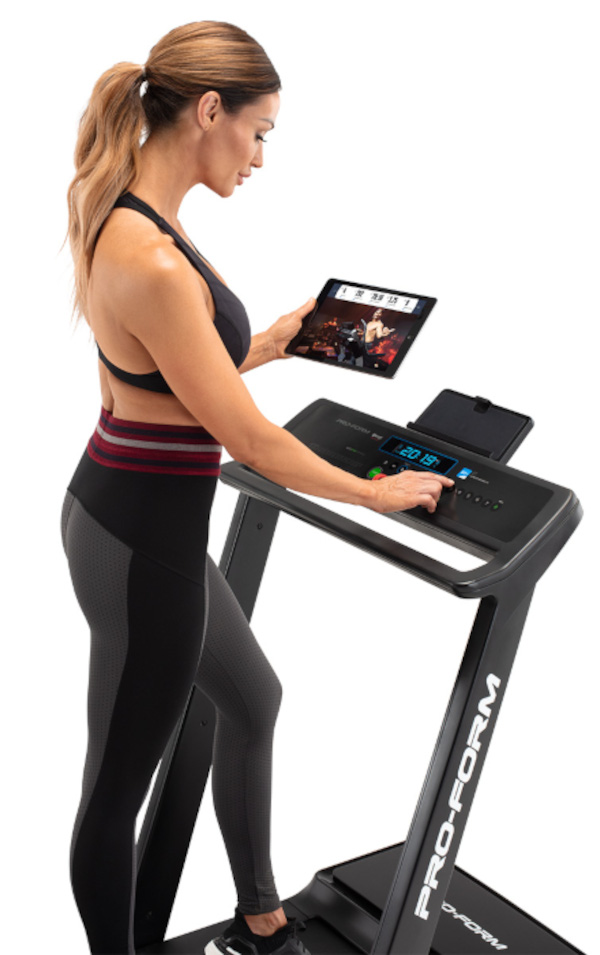 The ProForm City L6 Treadmill is a fantastic choice for those penny-pinching and spacing-saving users. Although this treadmill gives you the freedom to easily invest in your health with a home treadmill, it also frees up the space in your home. The City L6 has the capability to easily fold and stow away conveniently with small roll wheels for easy movement. Even with its compact feature, it has a strong drive system that cools itself to handle the constant speed changes from your training.
To complement the City L6's price tag and slim design, the treadmill includes ProShox™ Cushioning to allow a soft landing experience without much impact of each step. With less stress being put on your joints, you should be able to comfortably work out longer and harder so you can reap the most benefit of every single workout. 
Furthermore, it's iFIT enabled! Stay on track with streaming captivating and motivating iFIT workouts to your phone or tablet through the iFit app and securely place on the built-in tablet holder. Even while being more frugal, you still have access to training with the best trainers in the business, including accessing workouts that were filmed all around the world. Feeding your inner explorer will leave you wanting more and, in turn, getting you into shape.
As we mentioned above about ProForm+, users can get free equipment for only a 3-year iFIT Family Membership. It's time to finally change your, "No, I can't" to "Yes, I can" because health doesn't wait for anyone.
Comparing Treadmills Under $1,100
Not all treadmills are alike, so be sure to keep that in mind when you're comparing treadmills yourself. Each treadmill stands out in its own way and some may be better suited to withstand specific activities where others won't. It's a good idea to acknowledge your fitness goals and how you'll use the treadmill, then determine your must-have features and form your budget from there.
There are several factors to consider when comparing treadmills. The more costly treadmills will have specific features and will vary in size. Things to look for include:
Assembly and storage ease
Speed range
Durability
Adaptability
Training assistance
Warranty
Conclusion
To make sure you're asking yourself the right questions before you make that final decision, see our Treadmill Buying Guide for 2021. Once you decide what you want and need in a treadmill, you are ready to start comparison shopping. Every treadmill model has its strengths and price tag; it's just a matter of finding the right one for you. And with our best treadmills under $1,100 listed above, we have no doubt you'll find the best treadmill for you, your home, and your budget.
DISCLAIMER: This article is not intended to replace the advice of a medical professional. The above information should not be used to diagnose, treat, or prevent any disease or medical condition. Please consult your doctor before making any changes to your diet, sleep methods, daily activity, or fitness routine. Treadmill.com assumes no responsibility for any personal injury or damage sustained by any recommendations, opinions, or advice given in this article. Always follow the safety precautions included in the owner's manual of your fitness equipment.
IFIT DISCLAIMER: iFIT requires an internet connection and Wi-Fi to function. You will be required to provide your credit card information upon sign-up for iFIT. Your Commitment Period may be month-to-month or twelve (12), eighteen (18), or thirty-six (36) months, depending on your agreement. Terms of Service shall apply to your iFIT use and subscription during your Commitment Period and any subsequent Renewal Term. Unless you cancel your account or notify us at least twenty four (24) hours prior to the expiration of your commitment period that you do not wish to renew your subscription, your iFIT subscription will automatically renew for an additional month, one (1) year, or two (2) year period, as applicable, for the same duration as your initial commitment period ("The Renewal Term"), and you authorize us to bill the then-applicable membership fee and any taxes to the payment method we have on record for you.
Sources:
https://www.proform.com/treadmills/carbon-t7
https://www.youtube.com/watch?v=EmiTLj1aLzs&t=35s
https://www.proform.com/free-equipment
https://www.nordictrack.com/treadmills/exp-7i
https://www.nordictrack.com/learn/bluetooth-headphones-connectivity-to-machine/
https://www.nordictrack.com/fitness-equipment-financing
https://www.proform.com/treadmills/city-l6
https://www.proform.com/blog/free-equipment-with-ifit-purchase/
https://www.youtube.com/watch?v=gTe00dr9Cxg